Dillon's Rolling Western hits Nintendo eShop Today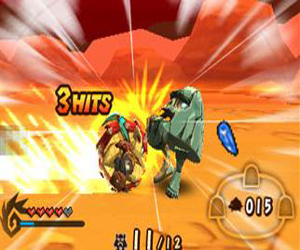 3DS owners can today head over to the eShop and pick up a copy of Dillon's Rolling Western, a unique take on the tower defence genre of game, that puts players in the boots of Dillon the armadillo, who is on a quest to save villages in the Wild West from nasty monsters named Grock. Yeah, Grock, I don't know either.
Dillon can erect defences around the villages in an effort to protect the villagers from the Grock, and as dusk falls, Dillon's defences will be put to the test. Dillon's Rolling Western adds into the mix the need to collect resources, this is where the rolling comes into play, as Dillon is able to dash around the environment like a rolling wheel, controlled using the stylus and the 3DS's touch screen, and the more resources you collect before dusk falls, the better off you'll be when the Grock show up. Its not all about straight up tower defence however, as Dillon is able to attack enemies himself by crashing into them using his rolling attack. Dillon's Rolling Western looks to continue the trend of eShop games tailored for the 3DS featuring impressive looking visuals, it would seem that Nintendo isn't content with releasing sub-par looking games for its handheld, with Dillon's world having a real Wind Waker type feel. This particular title has been developed in house by Nintendo, so may well be worth a look.
Take a look at the 3D trailer on your 3DS now, and if you like the look of it, Dillon's Rolling Western is available on the 3DS eShop for £9.00.