Arcade NEXT Begins on 18th April & All New XBLA Titles Will Have 400 Gamerscore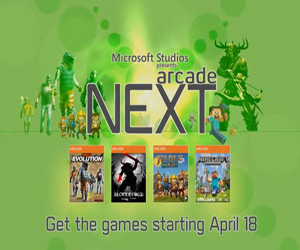 Microsoft have had the Summer of Arcade for quite some time and the more recent House Party brought some more marquee titles to XBLA also. Now, we have Arcade NEXT! Every Wednesday for four weeks, there will be a spang new XBLA title for you to download as part of this latest promotion.
We announced earlier today that Trials Evolution would be the first of these games, and now we can tell you the other three that will come after. On the 25th April for 1200 MS Points, Bloodforge will be available. On the following Wednesday, the 2nd May, Fable Heroes will arrive for 800 MS Points. Then, arguably, the biggest of the lot…the long awaited 360 version of Minecraft comes to XBLA on the 9th May for 1600 MS Points.
Microsoft have always killed it when it comes to promoting their Xbox LIVE Arcade promotions. Minecraft is the one that intrigues me the most. Announced back at E3 of last year, this was a big feather in Microsoft's cap. Will Mojang's massive hit translate well to consoles? Time will tell.
All of these games will also have a gamerscore of 400. Hooray for acheivements! This was announced a couple of weeks ago, but now it has been revealed that these titles will be the first of their kind to up the total score from 200 to 400.
The full descriptions for the games are below.
TRIALS EVOLUTION (Publisher: Microsoft Studios; Developer: Ubisoft/RedLynx)
18th April | 1200 Microsoft Points | PEGI 12
"Trials Evolution" is on every front, the next dimension of the smash-hit, award-winning "Trials HD." Bust out of the warehouse into an outdoor world of night and day, curved driving lines, and spectacular scenery. Multiplayer comes alive in your living room or on Xbox LIVE. Build your own tracks with the in-game editor or download those of any other player from the new Track Central. Customise your bike and rider with awesome gear and unique parts, enjoy innovative skill games, try ghost racing, beat your friends' scores and more! Don't miss the madness!
BLOODFORGE (Publisher: Microsoft Studios; Developer: Climax)
25th April | 1200 Microsoft Points | PEGI 18
With a brutal combat system, stunning art style, and a deeply compelling story, "Bloodforge" empowers you to slaughter hordes of demonic soldiers, deformed worshippers, and the gods themselves, using ferocious Rage Kills, devastating Rune attacks, and furious Weapon Combos. Help seal Crom's fate – and the fate of the rest of the world – in this dark, visceral story of revenge, betrayal, and destiny.
FABLE HEROES (Publisher: Microsoft Studios; Developer: Lionhead Studios)
2nd May | 800 Microsoft Points | PEGI 7
"Fable Heroes" is an action-packed, hack-and-slash adventure built for Xbox LIVE Arcade. It delivers a fresh spin on the "Fable" franchise with a unique art style and gameplay that takes playful competition to the next level. Whether on the couch or using Xbox LIVE, up to four players work together to defeat enemies while also competing with one another to collect gold coins and level up. Precious gold collected in Fable Heroes can be imported into the forthcoming Kinect title, Fable:  The Journey, providing players with a valuable head start from day one.
MINECRAFT: XBOX 360 EDITION (Publisher: Microsoft Studios; Developer: 4J Studios/Mojang)
9th May | 1600 Microsoft Points | PEGI 7
The infinite possibilities in "Minecraft" just got bigger. "Minecraft: Xbox 360 Edition" brings the global phenomenon to console gamers for the first time. The Xbox LIVE Arcade version of the game features an innovative new crafting interface, natural controller movements, a full Tutorial mode to teach the basics and for the first time in "Minecraft," split-screen multiplayer as well as over Xbox LIVE.