The GameGadget is Now Available for Pre-Order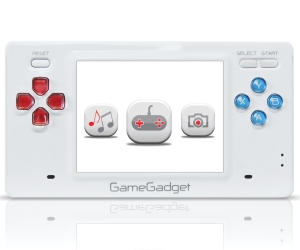 The console that is touted to be the 'iPod for Retro Games', the UK developed GameGadget is now available for pre-order from www.GameGadget.net. Capable of playing thousands of games across multiple platforms (at least according the the developers themselves), the GameGadget is trying to bring retro gaming back to the masses. However, there's no way of truly seeing what it's capable of until people start getting their hands on it.
According to the official press release the "GameGadget was developed to restore the video gaming experience to how it should be, for both gamers and developers. GameGadget is a unique gaming device, a bespoke software application and digital store. The catalogue of games is ever expanding; allowing users fast and secure downloads all supported by an online community, giving gamers the total gaming experience". I suppose we'll have to wait to find out. If you're still unsure as to what the GameGadget even is, check out the video that was released a couple of months ago showing the device in use.
If you're interested, you can head over to www.GameGadget.net and pre-order yours now.