GameGadget – A New Retro Handheld Coming In March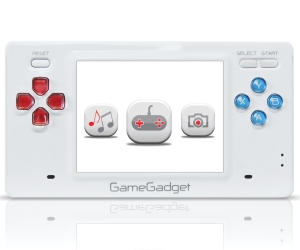 If (like me) you are partial to delving into the world of retro gaming, then Blaze might have the handheld for you with their innovative retro handheld – GameGadget. Released on March 31st, this handheld could change the way we legally play retro games (without atrocious touch-screen controls).
The boffins at Blaze have been squeezing classic consoles into portable purpose-built devices for years, and now they have transferred that knowledge into what many are calling the "iPod of Retro". This tiny device offers those with Retro-goggles the chance to purchase classic games legally – No longer do you need to scour the web for illegal ROMs for your hacked portable device; the GameGadget offers an online "iTunes" style digital distribution platform where developers and publishers can release their games, while consumers can play them on the go.
As you can see from the gallery and video below, the system looks compact and pleasing to the eye and the specs allude to a device that should be more than capable of serving it's purpose:
CPU core: 433mhz dual core CPU

Internal Ram: 64MB RAM / 2GB Flash RAM

Input: D-Pad, 2 shoulder, 4 face, Start, Select & Reset buttons

Outputs: Stereo Speakers, Headphones Jack & TV-out

Display: 3.5" LCD

Screen Resolution: 320 x 240 pixels resolution (16 BIT colour)

Battery: Li-Ion (rechargeable)

Additional Storage: SD/SDHC

Connectivity: Micro USB

Dimensions: 140 W x 75 H x 16 D (mm)
Personally, I'm excited about the possibility of a device like this. So long as Blaze can get enough publishers and developers onboard to provide content (Blaze already make devices that offer Atari & Sega games, so I imagine there is a high chance that they are onboard already), then this could be a great, legal way for gamers to play classic games on a portable system. I want one now, and I eagerly await it's release on 31st March, 2012.
More details can be found on the system's official site.
[nggallery id=745]