NEOGEO X is Confirmed, Price Announced [UPDATED]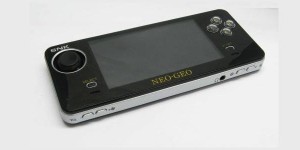 Confirmed today Tommo Inc and BLAZE will be releasing a Limited Edition NEOGEO Handheld for Worldwide sale Q2 2012. The NEOGEO X will be released following the 20th anniversary of the NEOGEO AES console. Coming with 20 built in NEOGEO classic titles, the NEOGEO X also comes equipped with various things we have seen from other handhelds including a SD card expansion, a 3.5" LCD screen, A/V output, internal stereo speakers and a headphone socket.
Being all about fair and balanced reporting here at GodisaGeek.com, I must say if you are a fan of classic NEOGEO games then this may be perfect for you. NEOGEO fans could get hours of enjoyment with it's pretty decent list of games. The thing about the NEOGEO X is the price points that are currently going around for the product sound a bit zany. £500 which is basically $783 USD seems a bit steep for nostalgia, and although the economy is doing great right now, that price doesn't really see it very competitive with the 3DS, VITA, and iPad. Maybe the X in the name means this is the first handheld with mutant powers.
Perhaps they are really trying to bring back true NEOGEO nostalgia. As you may remember the original NEOGEO console was a bit of a "luxury" item. The NEOGEO X is being marketed as a limited edition console and it may end up being this years hot Christmas item for all I know. I for one plan on buying a few and running around my neighborhood showing off my brand new…um retro device. Screw you iPad 3 I will be over there in the corner playing King Of The Monsters(really a great game). I just noticed that included in the bundle is Magician Lord. Please try not to throw your NEOGEO X across the room while playing this uber cheap game and I don't mean cheap as in price.
[UPDATE: Blaze have since stated that the £500 price tag is incorrect and that an official announcement of a price point will be made soon.]
Check out the list of games to be bundled with the NEOGEO X and look for the NEOGEO X in Q2 2012.
1. ART OF FIGHTING
2. BASEBALL STARS
3. CYBER LIP
4. FATAL FURY
5. FATAL FURY SPECIAL
6. FOOTBALL FRENZY
7. KING OF THE MONSTERS
8. LAST RESORT
9. LEAGUE BOWLING
10. MAGICIAN LORD
11. METAL SLUG
12. MUTATION NATION
13. NAM 1975
14. SAMURAI SHODOWN
15. SENGOKU
16. SUPER SIDEKICKS
17. THE KING OF FIGHTERS'94
18. THE ULTIMATE 11
19. TOP PLAYERS GOLF
20. WORLD HEROES