Watch People Slowly Jump Through the Air in the new Max Payne 3 Multiplayer Trailer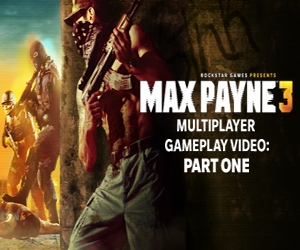 Rockstar have a released a brand new video for Max Payne 3, which focuses on the game's multiplayer offering.
The video features a substantial amount of people diving whilst shooting in slow motion, otherwise known as Bullet Time. Whilst this has been a core feature of previous Max Payne games, Rockstar is now attempting to bring the mechanic into multiplayer.
Alongside Bullet Time, the video also highlights two different multiplayer modes. Gang Wars is described as the "flagship" mode, and sees teams composed of the various factions found in the single player game facing each other in story-based rounds. The objectives of each round will be based on the outcome of the previous round.
Payne Killer sees players take control of Max and his partner Raul Passsos as they try to survive against a hoard of enemy players. To make the fight a bit fairer, Max and Passos have a greater amount of pain killers and Bullet Time.
You can check out part one of the Max Payne 3 multiplayer video below. Part two of the video is set to be released soon and will feature more information on the game's multiplayer.
Max Payne 3 will be available for PlayStation 3 and Xbox 360 on May 18th, with a PC version due to be released on June 1st 2012.