Ghost Recon Future Soldier Beta & Network Details Revealed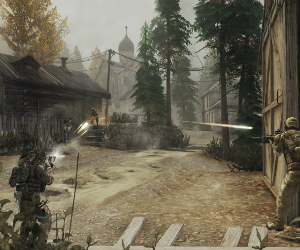 Cast your mind back a few years and you may remember Ubisoft talking about a beta for their upcoming game Ghost Recon Future Soldier.
All you have to do is google "Ghost  Recon Future Soldier release date" to see the sort of delays this game has had, all hopes of a beta had long since vanished by the time the May 2012 launch date was given. Well I'm happy to say it's finally here.
The beta will run from April 19th to May 3rd and will include two games modes and two maps. Three classes will be available in the beta Rifleman, Engineer and Scout. The first game mode is called Conflict, it will see players battle to complete objectives located throughout the map. The second game mode, Saboteur, sees teams compete to retrieve a bomb and plant it in the enemies base. Saboteur will be not be available until April 26th.
Xbox 360 players will be able to enter the beta through the Splinter Cell Conviction disc, or by pre-ordering Future Soldier. PS3 players will gain access to the beta by subscribing to PlayStation Plus.
Also revealed today was Ghost Recon Network,  a free companion service that will support all future Ghost Recon titles. The Network will allow players to customize and share in-game weapons, track player history, receive exclusive rewards, view heatmaps and manage their squads.
[nggallery id=842]
Players will able to download the Network on PC, smartphones and tablets when the game launches on May 25th. Beta players will be able to try out the Network website and Android app early.