Kingdom Hearts 3D & Theatrhythm Final Fantasy Get Release Dates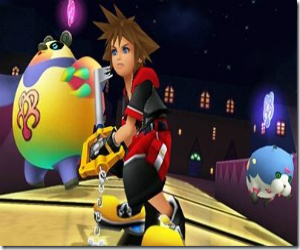 Square Enix have not one but two pieces of news that will put a smile on the faces of many western gamers, as Kingdom Hearts 3D and Threatrhythm get release dates.
Kingdom Hearts 3D sees the return of Sora and Riku as they battle to wake up seven worlds put to sleep by the Dream Eaters. Released in Japan last last month the game received a 38/40 from Famitsu, it sold 213,579 units in its first week and went on to top the charts.
Theatrhythm Final Fantasy takes traditional turn-based combat and mixes it up with rhythm gameplay. Featuring music from previous Final Fantasy titles, the game contains over 70 different tracks.
Sadly the dates are only for the US with nothing given on when Europe can expect the titles, fear not though both games have been confirmed to arrive at some point.
Threatrhythm Final Fantasy will hit the US July 3rd for 3DS. Kingdom Hearts 3D will launch a little later on July 31st also for 3DS.