Nintendo 3DS Becomes Irreplacable Companion for Louvre Museum Tour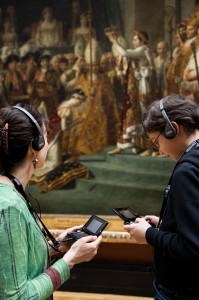 Starting 11 April 2012, visitor to France's Louvre museum will be able to experience a new dimension of audio tours. Nintendo has partnered with the Louvre to develop a tour on the 3DS handheld system. This new tour combines audio with 3D video and HD pictures of the exhibits. The handheld will offer over 700 commentaries on the various exhibits around the 4 story museum, recorded by the museum's curators and lecturers.
On top of the videos and audio commentaries, the new guide will also be able to pinpoint a visitor's location in the museum, helping those who might get lost in such a large building.
In addition to the ability to select commentaries on specific exhibits, the device will also have some preset tour options. Specially designed with new visitors to the museum in mind, two guided tours are available: The "Masterpieces Tour," which is a step by step guide through some of the Louvre's most famous exhibits, including the Venus di Milo and the Mona Lisa, and the "Egypt for the Family Tour," which focuses on Egyptian life of peasants and Pharoahs and includes quizzes at the end. Coming soon are tours for the deaf and blind to allow those with hearing and vision
impairment to fully enjoy the museum.
To top it all off, this advanced tour is even cheaper to rent than the audio tour that was previously offered by the prestigious museum.  The standard rate is 5€, and the 3DS is available for 3€ for children, disabled, and
unemployed visitors.  The tour will be available in 7 languages: French, English, German, Spanish, Italian, and Japanese. Look for the 3DS audio tour at the Louvre museum today.