It's A Steal! Payday: The Heist's New Update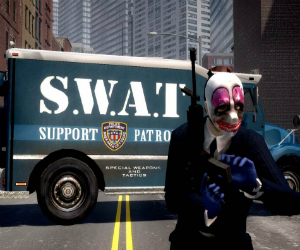 Overkill Software and SOE have just released details regarding the new update for their game, Payday: The Heist.
The update brings with it a whole host of improvements as well as new events, achievements, disguise masks and an all-new community-centric music track.
One of the more intriguing updates is enhanced AI capabilities, this gives CPU's traits such as aggressiveness, agility and intelligence. Hopefully this will add a new spark to the game for those who have long since tired of the six heists.
The full list of features included in this update are:
Masks of Disguise – Presidential masks are now available to those players that have reached level 145. Players can grab a Golden mask when all heists are completed on OVERKILL 145+.
OVERKILL 145+ – Players who reach level 145 can now play on a new difficulty called OVERKILL 145+, which unlocks new events, achievements, and weapons.
Drop-In – Finally players will be able to join in games mid-heist, filters can also be set based on reputation and difficulty requirements.
SWAT Tactics – The SWAT captain has trained a slew of new recruits, resulting in challenging new tactics and counter measures for players to face on each of the heists.
Sweet Moves – Players can check out new weapon animations for the Shotgun. Law enforcers now move more tactically than ever before. Even civilians have new dance animations.
Portrait Window Additions – Players can now see the name of the character they are currently playing in the portrait window while in game.
Expanding Field of View (FoV) – PC Players can now choose what FoV they want to use ranging from 60 to 100 through the advanced graphics menu.
Diamond Heist Music – For PC players, as a token of appreciation to the community, 200 of the most dedicated career criminals' nicknames have been immortalized in-game. The DJ has added a new music track, doing shout-outs to 200 players in the community.
So some pretty nice additions to keep things fresh for seasoned criminals, will you be going straight to the bank with this update?
The new update is available to download right now for free on SEN and Steam.