Tiger Woods PGA Tour 13 Review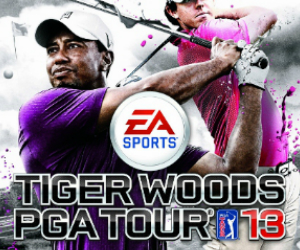 Game: Tiger Woods PGA Tour 13
Developer: EA Tiburon
Publisher: EA Sports
Available on: Xbox 360, PlayStation 3 (Reviewed on Xbox 360)
To use hip hop parlance, which regular readers know I often do, Tiger Woods has "fallen off". Bereft of a major tournament win in what seems like aeons, his personal life in tatters following a string of affairs and a high-profile divorce, and the fact that he has to live every day as the charisma-free golf automaton that is Tiger Woods have all contributed to his plummeting status; but that hasn't stopped his sponsors and endorsement deals from raking in squillions of dollars for him. Nike have continued to support him, and Electronic Arts continue to use him as the face of their golf simulation video-games, which have featured his likeness since 1999. A bit like Woods' stalling career, the Tiger Woods game series had started to become a bit stale. EA are simply expected to produce a yearly update to all of their sporting franchises, and consumers lap them up in droves, despite some lacklustre showings recently; we are looking at you, FIFA 12. We all know that Tiger Woods is the premier golfing franchise for consoles, we also know that Tiger himself has recently won his first PGA Tour tournament for ages , cleaning up in the Arnold Palmer Invitational. Someone with such prodigious golfing talent, and of a relatively tender age, was never going to stay down for long. It would be great for golf to see Woods back on top of his game but the question is, what have EA Tiburon done with his PGA Tour tie-in this time around? Does it make the proverbial cut, or is it a wild slice into the rough?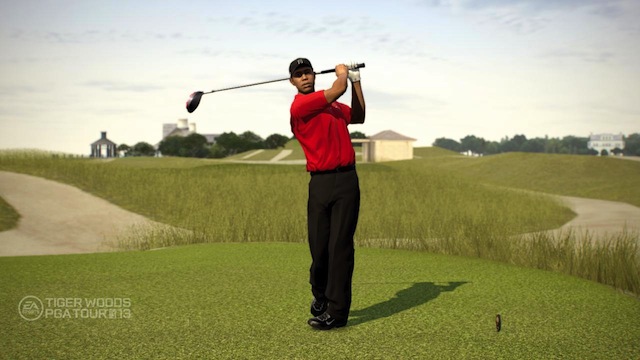 GRAPHICS: You can never accuse EA of shirking on the graphical side of things for any of their sports titles. Fans demand that the video-games look like a fair facsimile of the high definition sports broadcasts they watch on the telly, and Tiger Woods PGA Tour 13 looks superb. EA Tiburon have crafted some excellent representations of the real-life courses and players, and put it all together into a format that comes off like a flashy TV show. A big issue for me, however, is the lack of life in the courses. Watch a big golf tournament on TV and the courses are lined with humanity, clusters of fans lining the fairways, whilst media camera crews, officials and sponsors buzz with activity. Tiger Woods PGA Tour 13 doesn't really have any of this, and most of the time you will find yourself playing a round of golf on a completely deserted course.
SOUND: EA bring their usual licensed tunes, and there are some well-made sound effects when you swing and thwack the ball. The lack of atmosphere stretches to the sound whilst you are on the course though. There are some crowd noises while playing, but nothing that compares to the real euphoria witnessed as someone sinks a tournament-winning putt in a Major. Commentary is pretty dull. The great Peter Alliss aside, most golf commentary is rubbish anyway, so it is unfair to criticise the anodyne efforts here. Speaking of which, Woods himself provides commentary for the Legacy mode, offering his own observations on proceedings. Woods is hardly the most charismatic fellow, and while some fans will lap up the opportunity to hear him drone on, I found it all incredibly dull.
GAMEPLAY: Grand Slam Tennis overhauled the way we played the sport by implementing the superb Total Racquet Control, which allowed new levels of precision to be applied to hitting things with an expensive graphite wand. Not to be outdone, Tiger Woods has the new Total Swing Control system. In a nutshell, it is the most advanced, precise and deep control method ever seen in a golfing video-game. The trade-off is that it is also incredibly difficult to master; Everybody's Golf this isn't.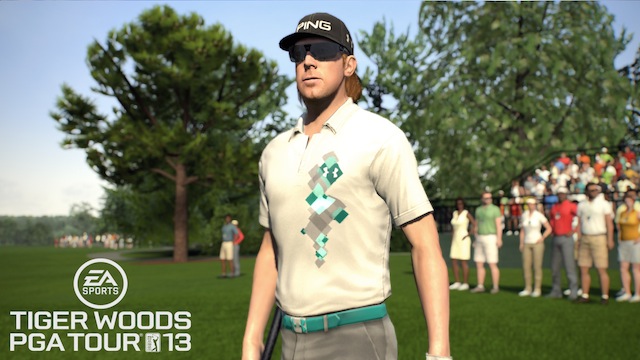 Playing the previous instalment in the series, which up until this game landed on my doorstep, I was, shots were taken by a simple pull back and flick forward of the left analogue stick. Tiger Woods PGA Tour 13 still uses the left stick, and the power of the shot will depend not only on the speed of your swing but also which club you have selected, however, now there is a white arc on screen which surrounds your golfer, and represents the optimum swing arc; it is your job to play the stroke with the exact amount of power and accuracy to imitate this on-screen guide. As you can imagine, this is not easy. To begin with you will find yourself shanking the blighter all over the shop. Feedback is given by the in-game caddy, and a little guide in the bottom left of the screen shows you exactly how you have manoeuvred the analogue stick during your shot, but it is going to take a while for anyone – even a seasoned Woods-ophile like myself – to compete on some of the harder difficulty modes.
The right stick is used to alter your stance and how much spin you place on the ball, with the stance and how you are positioned when taking the shot being a particularly important new addition. As you can imagine, being able to move around and control where the ball is positioned between your feet makes a huge difference in tricky bunker situations.
Motion controls are another new addition to the Woods franchise, coming complete with full support for Kinect too. At its best, this works brilliantly, you can bark voice commands to change your clubs, and raise your hand to your brow in a classic "Man at Littlewoods" pose to survey the course. Teeing off and playing longer shots are no problem, Kinect works superbly and will accurately track your swing as well as can be expected, however, putting is something of a nuisance. The recognition of how hard you wish to putt seems all to cock, and I found myself switching back to the control pad to successfully manage the nuances of the short game, which is actually much improved from last year's instalment, thanks to the precision controls. As with any Kinect title, there are also situations where you need to be careful what you are doing with yourself, an inadvertent hand movement can send things completely askew, and navigating the menus is just a complete pain in the arse.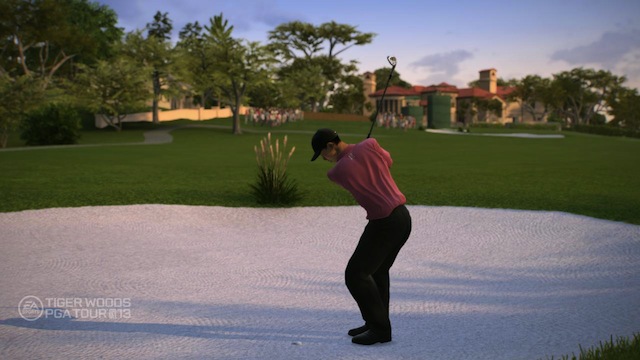 MULTIPLAYER: A lengthy single player experience is joined by some superb online modes. Country Clubs is an all-new feature and allows you to set up your own clubs and tournaments, both with friends and other internet people, and it works tremendously well. You can win coins for doing well in the tournaments that you create or for being the best player in your club over the course of a week. There are also easily-accessed Quick Matches, and regular tournaments going off all over the place.
LONGEVITY: There are an impressive 16 courses included from the get-go, and a stack of real-life golf stars, all accurately rendered, I particularly loved the all-orange getup beloved of young upstart Rickie Fowler. There is also a wealth of unlockable content, including courses, additional characters and clothing, and these are achieved by racking up coins, the in game currency awarded for winning tournaments, ranked matches online and beating set challenges for each course. Winning coins is not easy, and some of the prizes for doing so are extremely expensive in coin terms, so some players may wish to go down the route of purchasing the additional stuff as DLC; which didn't sit well with me. That said, if you really wanted to go after them, you will be playing chase the coins for a very long time to come, particularly when you factor into the equation that there are a staggering twenty courses to add to those already on the disc.
Returning to the fore is a lengthy career mode, where you create a custom golfer and embark on a golfing quest to rise up the ranks and win major tournaments. It is surprising to see an RPG style element to proceedings as you can now unlock "pins" which when unlocked, and equipped to your character, have special effects on your abilities and statistics.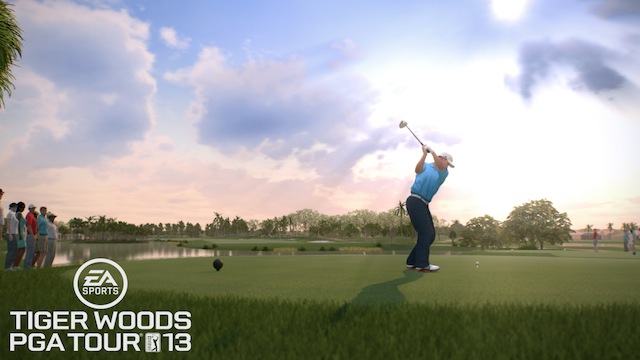 Another new addition is the Legacy Challenge mode, a well presented challenge mode based around chronological events in Tiger's chequered career. Bookended by videos starring the man himself, you can take control of a young Tiger during his legendary appearance on the Mike Douglas show, and follow his career as a young man right up to the present day, and even get a glimpse into the future as he attempts to achieve the aim of besting Jack Niklaus's record of eighteen Majors. Sadly there isn't a driving section where you have to avoid wrapping Tiger's motor around a fire hydrant, or a beat 'em up mini-game where he has to avoid being brained by his spurned missus.
VERDICT: This game marks the end of Tiger Woods' current deal with Electronic Arts. It has been a long journey, marked with peaks and troughs. Does the world really need another PGA Tour game? Given the improved control methods, and stack of cool new modes, the answer would be a resounding yes. It is not without its problems, the Kinect interface is a bit hit and miss, the microtransaction-style coins-to-DLC dilemma is a touch cynical, the game is really hard – particularly when putting, and the game lacks charm and atmosphere; but pound for pound, this is the best golf game on the market. Tiger is joined on the cover this year by Rory Mcilroy, perhaps an ominous sign for the waning superstar. Legacy mode may provide us with a poignant love letter to the player, but a new clutch of golfing stars are vying for the limelight and creating their own legacies, from the colourful Fowler, to the Happy Gilmore-esque Bubba Watson, who just added the Masters to his already impressive list of achievements. It will be interesting to see what happens this time next year. Whatever happens, you can never truly count out Mr Woods, he has been written off before in the past and then came back to hit even loftier heights. Don't bet against it happening again, and in the meantime, enjoy the spoils of this excellent golfing sim.