E3 2012: Wii U gets Exclusive Director's Cut of Trine 2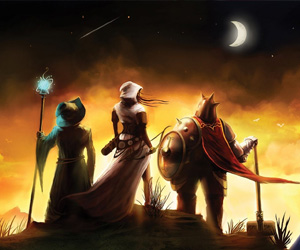 Developers Frozenbyte have announced that they will be releasing Trine 2: Director's Cut, a re-working of their popular co-op fantasy sequel, exclusively for Wii U, this winter. This special edition version will add a host of extra features, as well as a full expansion campaign – which adds five new levels to the title, as well as extra skills for the characters.
A specially designed multiplayer mode will also be added into the Wii U version, known as Magic Mayhem. This mode is a competitive and challenging party mode for up to four players, both online and offline. This will be in addition to the traditional co-operative aspect of the main game – and will only be seen on the new Wii U console.
Some of the new features of the Director's Cut are as follows:
– Accessible for both casual and hardcore gamers thanks to the new control system designed for Wii U, taking full advantage of the touch screen for intuitive character controls
– More than 100 improvements to the original game, including polished gameplay features, level geometry adjusts, new vocals and character interactions, and user experience improvements
– Online and local co-op with up to three players, with special multiplayer features for Wii U GamePad and support for up to three Wii Remotes.
– Superb graphics and next-gen visuals using impressive technical effects, making Wii U the definite console version
– Save anywhere to play as long or short sessions as you like and use the Unlimited Character Mode and Game+ for replay value
– Upgrade your characters to suit your play style and to learn amazing new skills
– Hidden collectibles for extra adventuring
– Amazing 19-track fantasy soundtrack
– Full language support for English, French, German and Spanish, and optional subtitling for more than 10 languages
– Campaign support for the new skills from the upcoming expansion
– Director's Cut includes the exclusive Magic Mayhem "party mode" for up to 4 players in online and offline multiplayer
*Trine 2 expansion campaign (included in the Director's Cut)*
– Add-on content for Trine 2
– A new adventure featuring the Heroes struggling against new goblin villainy
– 5 new levels chock-full of new puzzles, hazards, enemies and contraptions
– New skills for each character with new possibilities for puzzle solving
– Completely new environments ranging from burning desert to snowy mountains to the insides of a giant sand whale
Has that got you excited for the new version on Wii U? Check out the trailer below:
Trine 2: Director's Cut will release on Wii U during the holiday season 2012. Trine 2 is currently available on Steam for PC/Mac, the Mac App Store, Xbox LIVE Arcade and PlayStation Network. See the GodisaGeek.com review of the game here.