Full Trailer for Deponia from Lace Mamba Global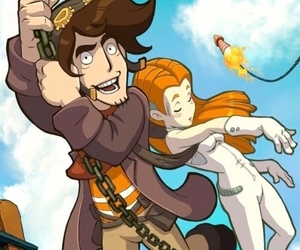 With its full retail release date moving ever closer, Lace Mamba Global and Daedalic Entertainment have put together a full traielr for their new Adventure Game, Deponia. Making use of the impressive hand drawn animated cutscenes and in-game footage, the trailer gives us an idea of the sense of humour, emotional journey and strange situations that players will encounter in the game.
The video is also the first opportunity that gamers have had to check out the full english voice cast, as the game was originally voiced in German. The voice cast all sound suitably cartoony, and seem to fit the style of the game well. And to show off the high quality musical score to the game, Lace Mamba Global will be including a full CD of the soundtrack to the game with the retail release of the title.
Deponia is the next big adventure game release by Daedalic Entertainment, creators of award-winning genre highlights like A New Beginning and The Whispered World, brought to life with detailed hand-painted backgrounds in widescreen format and top-quality cartoon animation. The game is a fast-paced comedy of errors and one of the most unusual love stories in gaming history. The twist-filled story takes its off-beat characters all over trash planet Deponia, a unique game world in the style of Douglas Adams, Terry Pratchett and Matt Groening. From Kuvaq, an improvised village built inside a giant trash heap, to the swimming black market and the dark corners of the elevated planetary railways.
See the full trailer below:
Lace Mamba Global will release Deponia on PC in the United Kingdom, Ireland, Australia, New Zealand, the Benelux countries and Portugal on June 29th, 2012
Lace Mamba Global will release Deponia on PC in the United Kingdom, Ireland, Australia, New Zealand, the Benelux countries and Portugal on June 29th, 2012