Nintendo Reveals Golden Coin Case for New Super Mario Bros. 2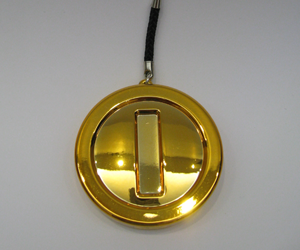 It's no surprise that the New Super Mario Bros. series is doing so well. Taking what we oldies thoroughly enjoyed as kids and recreating it in a way that's fresh and new. As such, New Super Mario Bros. 2 is just around the corners, waiting to leap onto our 3DS for more platforming fun.
And it seems Nintendo want to reward us for our long years of loyalty. After years of chasing after the virtual version, with extreme satisfaction sinking in after hearing a long chain of 'Dings!', we finally have the chance to get our hands on a real version of the famous Mario Coin.
Coming exclusively to GAME and gamestation, you can get your hands on this swag by pre-ordering your copy of the game at one of their stores. And seeing as you'll be spending a lot of your time collecting these coins, you may as well start off as you mean to go on, right?
A coin is not all this is, however. You'll be able to open this puppy up and store some (albeit small) things inside, including the 3DS cartridge of your NSMB2 game. Neat! Luckily this is merely gold coloured, not actually made of gold, so portability shouldn't be an issue.
New Super Mario Bros. 2 is coming out for Nintendo 3DS and will be release on the 17th August 2012.