Might & Magic: Heroes VI Gets Gold Edition and 'Danse Macabre' Adventure Pack This September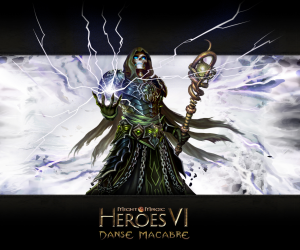 Ubisoft have today announced that  the second adventure pack for Might & Magic: Heroes VI, 'Danse Macabre', and a Gold edition featuring the game and both adventure packs, will hit PC on September 27th.
Featuring the return of another beloved Might & Magic character, much like the first adventure pack, Pirates of the Savage Sea, did, Danse Macabre features another 10 hours of additional gameplay to add onto the Might and Magic: Heroes VI experience. With the Great Lich Sandro returning to find his previously confiscated staff of power and several more artifacts in order to unseal the mysteries of one of the most powerful artifacts in all of Ashan, the Ring of the Unrepentant, Danse Macabre aims to let players who enjoyed the main experience enjoy an additional story that uncovers more secrets. With new artifacts and bonuses, ranging from a new Dynasty weapon to the first appearance of a Pet, Danse Macabre promises to bring the unique mix of strategy and RPG to players once more on September 27th.
If you're yet to try Might & Magic: Heroes VI, then the release of Might & Magic: Heroes VI Gold Edition will provide you with a fantastic opportunity to get the whole experience, plus an exclusive additional map. With Pirates of the Savage Sea , the add-on that I previewed here, as well as Danse Macabre, the simultaneous release of both will allow anybody, from fans of the series to newcomers, enjoy the  game and new content with ease.
Might & Magic : Heroes VI Danse Macabre and Might & Magic:  Heroes VI Gold Edition will be available at all major digital retailers, Steam, the Ubishop and, in the case of the Gold edition, selected retail outlets, for £7.99 and £29.99 respectively.