Are You the Next Ridley Scott? – Why Not Enter Nintendo's New Competition, A Vision in 3D?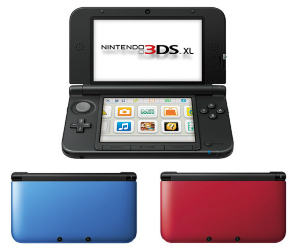 Do you fancy yourself as the next Ridley Scott? The next James Cameron or Steven Spielberg? If the answer to that is yes, and you've got a Nintendo 3DS that you can lay your hands on, then you have everything you need to enter Nintendo and BFI's 3D Short Film competition; A Vision in 3D.
The competition, supported by Academy Award nominated director Ridley Scott, allows anyone to film a short film, using their Nintendo 3DS, and submit it for the chance to reshoot that short film with the real equipment, complete with the help of AV innovator Stuart Warren-Hill and Senna director, Asif Kapadia.
The final version of the 3D short that you have the chance of creating, will be premiered at the 56th BFI London Film Festival; you don't get much bigger than that. In addition to the main prize there will also be 3 runner up prizes of a pair of tickets to attend a screening at the 56th BFI London Film Festival plus a BFI Membership for one year (or if you are under 18 a one year subscription to Sight and Sound Magazine).
A Vision in 3D competition Figurehead Ridley Scott says:
"Digital and 3D filmmaking is within the grasp of everyone these days. I'm excited by all the skill and talent that's emerging in the UK, telling stories in different ways and it's vital that it gets our support. This competition launched by the BFI and Nintendo opens up a big opportunity for emerging filmmakers to make their mark and they should grab it with both hands. I can't wait to see the results."
If you think you're in with a shot at winning – and there's no limitations apart from your own creativity, and the 40mb limit – then head over to the website below, check out all the terms and conditions, and enter for your own shot at being the next big thing. You've got nothing to lose!
http://www.nintendo.co.uk/3dsbfifilmcomp