Sample The Sony Wonderbook At HMV Oxford Street This Weekend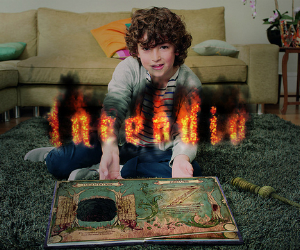 Why not give Sony's innovative new peripheral a try, this very weekend?
Sony dropped us a line today to advise us that the very interesting Wonderbook will be available at a public event, held at HMV this weekend,
While the Wonderbook is not available in stores until November, the device will be playable at HMV's Oxford Street store in London this weekend (25th August-27th August).
J.K. Rowling's Book of Spells will be available for wizards of all ages to play with, and you will even be given the opportunity to preorder the peripheral and save a little money in the process.
Over the three day event, you can preorder the Wonderbook & Book of Spells Solus set for £27.99 (instead of £30.99) or preorder the Wonderbook PlayStation Move bundle (Wonderbook, PlayStation Move controller, PlayStation Eye and Book of Spells) for £65.99 (instead of £70.99).
Is there anyone who is interested in the Wonderbook? I must say, I do quite like the concept, and I think this could be a huge hit for Sony this Christmas.