Temple Run Hits 100 Million Downloads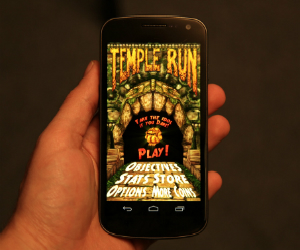 Imangi Studios have revealed that their mobile title Temple Run has now reached 100 million downloads since it was released just one year ago.
Along with the mind boggling download figure, Imangi also released several other statistics regarding the game:
20% of Singapore's population have downloaded the game, along with 12% in Hong Kong, 13% in the US, Australia, South Korea and Sweden, with the UK sat at 11%
10 billion game sessions have been played
54,000 years of gameplay have been racked up
Imangi Studios initially charged 69p/$1 for the game, selling around 1 million copies. Then a mere 6 weeks after launch, the game became free-to-play and really started to gain popularity.
If you're yet to try out the addictive little game, it's available on iOS and other smart devices.