Buddy Up in the New Trailer for Of Orcs and Men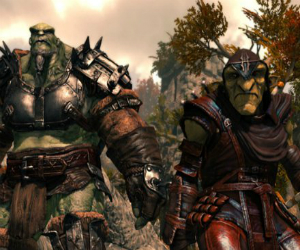 Cyanide Studios' brutal hack and slash fantasy, Of Orcs and Men, is unlikely to be remembered for its subtlety. Casting you as hulking Orc warrior Arkail and sneaky Goblin Styx, the game draws comic relief from their constant sniping to off-set the dark, violent themes of the narrative.
On a quest to slay the human Emperor and free the green-skinned people from a life of serfdom and strife, Arkail and Styx will have to combine their opposing styles to dominate their enemies.
The latest trailer highlights some of the ways they can work together, and gives us an insight into their bickering, hate-hate relationship.
Of Orcs and Men is developed by Cyanide Studios and will be published by Focus Home Interactive. It will launch in Europe for PC, PS3 and Xbox 360 on October 12th.