Deadly Premonition: The Director's Cut Announced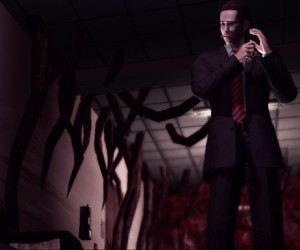 If you've never played Deadly Premonition, released by Access Games in 2010, you're missing out on one of the strangest and most original games of the last decade. Holding the dubious Guineas World Record for "Most Critically Polarising Survival Horror Game", it tells the story of Francis York Morgan (or simply York) and his supernatural experiences as he attempts to unravel a murder mystery in the Twin Peaks-ish town of Greenvale.
Fans of the game can now rejoice anew, as its undeniable popularity has prompted publishers Rising Star Games to release a Director's Cut edition of the hugely-inventive, brilliantly-mental open world survival horror.
President of Rising Star Games, Martin Defries, explains their decision to revisit the title: "Love it or hate it, Deadly Premonition has been a phenomenon; 'cult' does not begin to do its success justice. With the enhancements Swery (Game Director Hidetaka Suehiro) and his team are making to this new PS3 version, I am delighted to confirm Rising Star Games' involvement with this fantastic game that should engage fans new and old alike."
Suehiro himself says he is "so happy" to be working on Deadly Premonition: The Director's Cut, adding: "It's been a while since Deadly Premonition was released, but I'm still receiving so many messages of support from fans around the world. I'm writing some exciting new scenarios and adding some new features. All will be revealed over the coming months and I'm confident I can deliver an unforgettable experience for you all."
Exclusively developed for the PlayStation 3, the new version of Deadly Premonition will feature HD graphics, additional DLC, a whole new scenario and a reworked control system to make combat smoother. Have a looksee at the trailer for the original while you're here.
Deadly Premonition: The Director's Cut is scheduled for release on PS3 early in 2013.