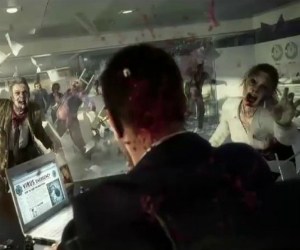 As Wii U Day approaches here in the UK, more and more details are emerging about the various launch titles due on Day 1. Now the console is out over in the US, reviews have also begun to surface – and perhaps not surprisingly, Ubisoft's ZombiU has garnered some seriously disparate scores. Thankfully, it seems to be doing well with critics on this side of the pond – and this new gameplay vidoc shows why.
The third documentary in the In the Eye of ZombiU series, this video showcases the mechanics of the game, most notably the various features of the Wii U GamePad such as leaving messages for the community, sniping and scanning the environment. It also details some of the core gameplay elements like exploration and scavenging to survive.
Featuring Co-Creative Director Jean-Philippe Caro, Senior Producer Guillaume Brunier and Lead Writer Gabrielle Shrager, the video, entitled "Surviving the Hard Way", has stoked our excitement for Ubisoft's London-set survival horror even more. Check it out below.
ZombiU will be released on November 30 in the UK and Europe for Nintendo Wii U.