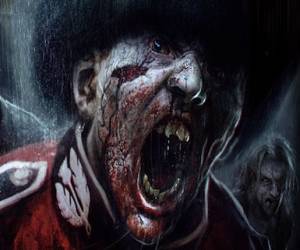 As the Wii U's UK launch date fast approaches, Ubisoft have released a batch of new live action trailers for their survival horror launch title, ZombiU.
Featuring survivors of the initial outbreak of the Blight – the deadly virus that has turned the citizens of London into flesh-eating, infected monsters – each short clip is presented as a piece of found footage with a government warning to obey the rules of quarantine and not let yourself meet the same fate as the doomed subject.
Not only are they designed to drum up anticipation for the game, but also to advertise Ubisoft's free Infection Simulator app for iOS. It has a feature similar to popular app Zombie Booth that will transform a photographed person into a mock-up zombie, but it also gives minor details about ZombiU's Blight. The Emergency Messages mode allows you to record your own desperate message to loved ones and upload them to Facebook, Twitter and YouTube. You know, if you're ever unfortunate enough to get caught up in a viral Armageddon and feel like being social.
Here are the first two trailers below. Be aware that they contain naughty swears and almost certain bloody death for the people who should be arming themselves and fortifying their locations instead of pratting about on their phones. Don't these people know anything about a zombie apocalypse?
ZombiU will be available on November 30 in the UK and Europe for Nintendo Wii U.