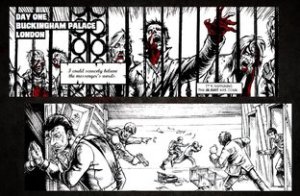 A brand new ZombiU webcomic has been released, charting the fourteen days between the zombie apocalypse and the game's opening.
A new page of Z-14 will be unveiled every day between now and November 30th, when ZombiU will launch alongside Nintendo's Wii U console. It follows one survivor through the early days of Armageddon and will provide backstory and context for the events of the game.
Even the first page reveals minor details, such as the survivors referring to the viral outbreak as "the Blight", and the fact that it may have been predicted long ago. It mentions Enochian which, as you may or may not know, is allegedly the Divine language, as recorded by 17th century philosophers and occultists John Dee and Edward Kelley. The use of Enochian in ZombiU may hint at a paranormal catalyst for the zombie invasion, or perhaps a deeper conspiracy behind the apocalypse.
The comic is written by Antony Johnston and Gabrielle Shrager, with artwork by Kev Crossley. Johnston is a British writer best known for his work on the Wasteland comics and for his graphic adaptations of the Alex Rider novels, while Shrager was lead writer on Ubisoft's Rayman Origins. Remember to check the Z-14 website everyday for a new episode.
UPDATE #1: The second page has now gone live at the Z-14 website. In Chapter Two, it's revealed that The Blight was predicted long ago. Below, you can check out an image from page 2.
[nggallery id=1147]
UPDATE #2: Over on the Z-14 website, the third page has gone live and shows a children's nursery dealing with with The Blight in its early stages.
UPDATE #3: We're now up to Page 10 on the Z-14 website, and as the story nears it's end, things are looking no better for the terrified survivors of The Blight. Look out for an appearance by the Wii U's GamePad, here called the "Prepper Pad" after the enigmatic cockney trying to guide the survivors through what needs to be done. The comic series – which also tells the story of a similar calamity that happened centuries before – will conclude on Thursday, one day before the UK launch of the Wii U.
ZombiU will be released on November 30 in Europe and is available now in North America for Nintendo Wii U