You know what day it is? It's Monday again and that can mean only one thing here at GodisaGeek: It's time for another edition of Mobile Monday, the article where we take a look at four mobile games and let you know if they're worth your time and money.
This week we're taking a look at Snail Bob from Hunter Hamster, Grow Away from Soco Software, Catcha Catcha Aliens! from Hot Sauce Interactive and Surge from FuturLab.
Read on to find the full reviews of each game, but don't forget to come back next week for more Mobile Monday reviews. While you're here, if you have played any of the games listed, or even just want to come back once you've had a go to let us know how you got on, we'd love to hear from you in the comment box at the bottom of the page.
Titles are available on iPhone and iPad unless specifically stated otherwise. If you like what you read, click the small black "App Store" button to load iTunes up and purchase the title!

SNAIL BOB:
Snail Bob is a game that most people would most likely dismiss out of hand. It's not got a very interesting name and the icon doesn't really tell us much either. When we're choosing what game to spend our free time with on our iOS devices, a lot of us are extremely choosy. However, if you just spent a couple of seconds looking at the screenshots for Snail Bob, a game developed by Hunter Hamster, then you'd probably be a little bit more intrigued. A mechanical based puzzle game with enticing graphics and a comedic slant? Yes please. Sign me up for that straight away.
The gameplay is simple enough to learn without really looking through any of the instructions, and the tutorial level does a good job of guiding you through the basic mechanics of the game. Your task, as the player, is to make sure that Snail Bob gets to the exit without any problems. In order to do this you're going to have to manipulate the many objects that litter the scenery. It could be a button that needs to be pressed in order to raise or lower a bridge, or winch that needs winding in order to open a trap door. Whatever it is you have to manipulate, you'll have fun doing so. Each level has that "just one more" factor going for it which makes Snail Bob a rather difficult game to put down.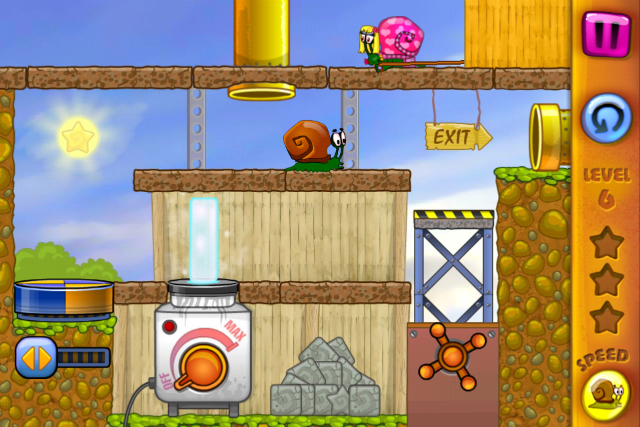 Most puzzle games these days have the almost mandatory "Three Star" system, where the player is awarded up to three stars depending on how well they managed to complete the level. While Snail Bob does have a three star system implemented, it's not the same as a standard puzzle game. In Snail Bob, the amount of stars you receive at the end of the level has got nothing to do with how "well" you did. In each of the levels there are three stars hidden, all the players has to do is find them, tap on them and collect your star. Sounds easy on paper but some of those stars are in some really tricky places that, especially in the later levels, players will find them difficult to attain.
The controls in Snail Bob couldn't be easier either, all of the contraptions that you'll be interacting with are intuitive and most players won't have a problem figuring out what's expected of them in order to activate them. Most of them have giant red buttons or massive winch handles that make things obvious for even inexperienced gamers. It really is a game that can be accessed by anyone; and enjoyed by all too.
Snail Bob is a huge surprise, a highly entertaining game with masses of replayability, lots of charm and plenty of levels for people to be getting on with. It's a game that's difficult to put down once you've picked it up so expect to charge that iOS device battery more times than you're probably used to. Snail Bob is accessible to anyone who owns an iOS device, and is a decent challenge for everyone, especially in the later levels. You'll be missing out of you skip it like I almost did so avoid that by downloading it right now!


GROW AWAY:
It's very rare that we get a game on the iOS store that's unlike almost every single other game out there. We've had a few in the past, usually when the technology was new though, and people were still working out how to utilise the touch controls to their advantage. Recently however, we seem to have gotten the same games over and over again, just with a new skin. Sure, there have been some additions to the tried and tested formulas, something to make those copies stand out, but it's been a while since we've had a game that's well and truly unique. That's where Grow Away, developed by Soco Software, comes in. But does the fact that it's different mean that it's any good?
The short answer is yes. The gameplay in Grow Away places the player as a kind of vegetable general, in charge of a giant slingshot that you'll use to fire your vegetable kinsman at the ever encroaching enemies. It plays like a mix of Angry Birds and Bubble Bobble (which is a strange combination to say the least) with the level ending when you've stopped all of the enemies getting to your fence and knocking it down. With that in mind, there's probably a little Plants Vs. Zombies in there too. A strange mix indeed, but one that many people will take to without much of a problem.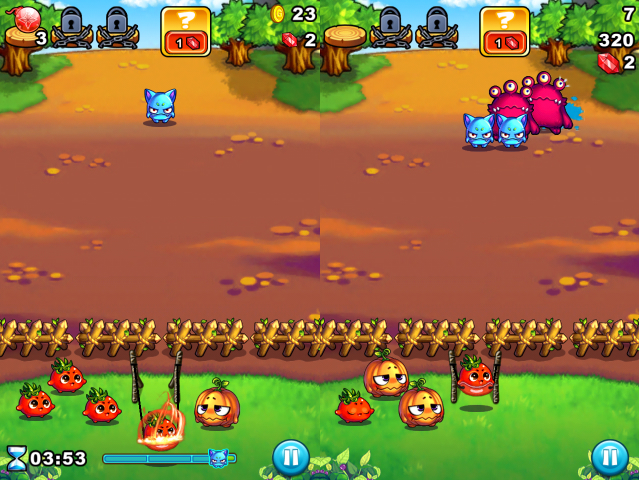 As we've come to expect from these types of games, there's the obligatory three star system in place. This system works in exactly the same way as it does in other games, the quicker you complete the level, and with fewer enemies getting to the barricade at your side of the screen, the more stars you'll be awarded. Plenty for the completionists to do as getting three stars, even on the game's early levels, is no simple tasks. You're going to have to keep your wits about you.
The controls are easy enough to learn too as the main thing the player has to do is pull back on the slingshot and let go when it's pointing in the direction that they want to fire the vegetable. The most difficult part of the controls is remembering that you can swap out your vegetables at any time with anything that you may have in the sidelines, such as the devastating pumpkin, but even that is intuitive and most people will only needs to be told once before they've got it down to a fine art.
Grow Away is as unique as it is enjoyable and I have no doubt that once people pick it up, they'll have a hard time putting it back down. The game mechanics are similar enough to other games that we've all played over the years that there's no real barrier to entry, but it's different enough so that most players will feel like they're playing something fresh. The visuals are impressive too, especially the anime style intro to the game. There's a charm to Grow Away that's hard to replicate. This is a game that will certainly stay on my iOS device for the foreseeable future, as it should yours.


CATCHA CATCHA ALIENS!
It's not very often that a game designed by someone I grew up watching on the TV drops onto the Mobile Monday desk, however, when I heard the news that Jonathan Ross had started a new game development studio, Hot Sauce Interactive, and that the company would be releasing their first mobile game, I was ready and waiting. Half expecting it to not be great but wholly hoping it was, I downloaded the game and started playing. Let's get straight to what you want to know, the game is an extremely fun, massively addictive infinite runner in the same vein as Temple Run, but with a few changes that make it stand out from the crowd; some of which will put it on a pedestal that other games will simply never reach.
The first thing that people will notice with Catcha Catcha Aliens is that the visual design of the title has been handled very well and the game will load surprisingly fast on most devices despite how goodl it looks. In a mobile gaming environment where optimisation seems to be overlooked 90% of the time, Hot Sauce Interactive have broken the mould with how well their game runs. Speaking of running, that's what you'll spend your time doing in Catcha Catcha Aliens, at the start of each level you'll be given a target number of aliens to catch and, once you've caught the number, the ship voiced by Jonathan Ross himself will descend and offer to pick you up and take you to the next level. You can ignore it though and just carry on in the level you're currently playing, it's up to you.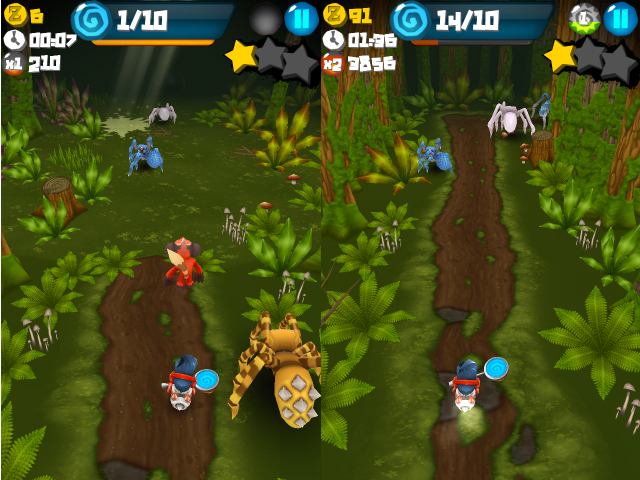 As with most games, there's a three star system implemented into the title, however, unlike most other games, how many stars you get isn't decided by how well you do in a particular level. When each stage starts, you'll be given three optional objectives, each one relating to a single star. Perform all three optional objectives, which range from sliding underneath obstacles a certain number of times to spending a certain amount of time in the level, and you'll be awarded with all three stars. This is why you're allowed to spend as much time as you want in the level, to allow you to get all three stars if you so wish, and the whole gameplay mechanic is implemented in such a way that you're not going to want to leave the level until you've done so. This all adds to the players desire to play even more of the game; which is a good thing.
The controls in Catcha Catcha Aliens are easy to understand, however, you're going to need quick reflexes if you want to beat some of the later levels of the game. The player will spend most of their time swiping the screen to control whichever character they've chosen to play as (of which there are two), with swiping left and right controlling the movement around corners, swiping up to jump over obstacles and swiping down to slide under them. While you're running straight you can also tilt your iOS device to the left and right in order to move your character slightly, along the path they're currently travelling, in those directions. It really is a simple game to play but it's one that has relatively large difficulty spikes. You have been warned.
If you told me a TV/radio personality was opening a game studio, I would have instantly guessed at Jonathan Ross, and the ability to get his mates into the studio to record some voices for the game (Stephen Fry, the British national treasure himself, makes an appearance) adds to the game's sense of quality. Catcha Catcha Aliens! has been designed extremely well, it's a fun game with masses of replayability and nobody is going to be able to grumble at the modest 69p price tag. Go out and buy it now, you won't regret it one bit. Just remember to plug some headphones in or turn the sound up, listening to the music and the voiceovers is half of the Catcha Catcha Aliens' charm. I look forward to whatever Hot Sauce Interactive come out with next, if their first game is anything to go by then they're certainly a company to keep your eye on.


SURGE:
FuturLab are the developers behind some pretty impressive games when it comes to the mobile gaming scene. Velocity was simply one of the best PlayStation Mini titles available for the PSP and their releases for the new PlayStation Mobile format, including Beats Slider and Fuel Tiracas, have been nothing to sniff at either. The developer is back for even more, this time taking on the classic match-3 genre, but with an electrifying twist. Surge may well be the best game that FuturLab has released so far; and that's no small feat.
As I've already mentioned, Surge is a match-3 style game in a similar vein as Tetris, Columns, Bejeweled and all of those other game that we tell ourselves we'll play for five minutes and then realise that it's a couple of hours later and nothing that we were supposed to have done has been done. The difference with Surge is that instead of manipulating blocks that are coming in from the top of the screen, you're connecting boxes that are already on the screen with surges of electricity – hence the name – connect at least two of the boxes together and they'll disappear, netting you some points, the more boxes you connect in a chain, the more points you'll get. Simple really.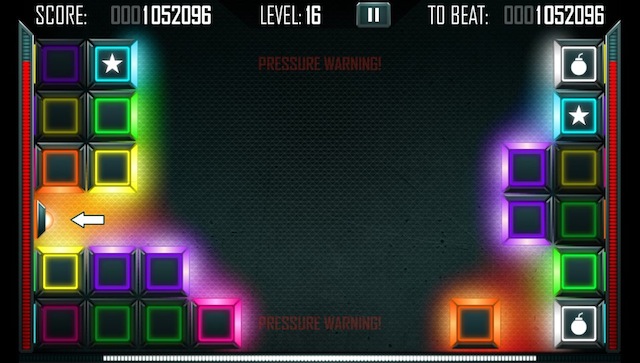 Just like those match-3 games of yesteryear, there's no levels in Surge per-se. The whole game consists of a single level that you try your hardest to stay in, you may have levelled up all the way to level 20 by being the best chain surger in the land but a single mistake can cost you everything and send you plummeting back down to level 1. If you're connected to the internet while you're playing Surge, the game will connect to the leaderboards and display the score of the person that was immediately above you the last time you played. This ensures that you've always got a goal in mind while you're playing, instead of just blindly trying to get the best score you possibly can you've actually got a little bit of a competition going on. PlayStation Mobile doesn't support trophies inherently but FuturLab have included built-in trophies into Surge so at least you can strive to achieve them if you want, they're not going to appear on your PSN account for others to see but they add a nice longevity to the game that would otherwise not be there.
The controls of Surge couldn't be any easier either as everything that you're doing is controlled with a single finger on the touch screen of your PlayStation Certified device. There's no doubt that the game is easier to play on the larger, more responsive screen of the PlayStation Vita but because the game only requires you to link boxes up using your finger, there's no reason it won't work a charm on mobile phone devices either. There's no on-screen analog sticks involved here so there's nothing to push people away from the game no matter which PlayStation Certified device they happen to be using. The barrier for entry is rather low too, even though the game can get pretty hectic at times. If you've played a match-3 game before then you already know what's requires of you in Surge, so you can get straight into it without much of a problem.
If you've got a PlayStation Vita and have been looking for a good, new, cheap game to accompany you on your morning commute to work/school, then Surge is the perfect game for that. It's a game that can easily be picked up and put down (not that you'll want to put it down) as well as one that has a low enough barrier to entry that even people who don't normally play video game should be able to pick it up and start playing without a problem. The fact that you play it using the touch screen makes the controls of the game extremely intuitive too, further encouraging people of all ages to grab their PlayStation Mobile devices and get Surging!