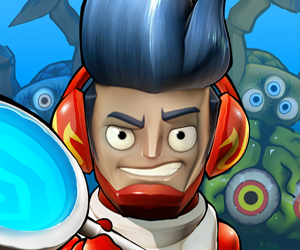 Catcha Catcha Aliens! was incredibly well received by critics upon its release on iOS devices, and today we've received news that will no doubt have Android users gleaming.
HotSauce Interactive has announced that the game is scheduled to release on Google Play come March 7, and will be free-to-play on both the Android and iOS marketplaces on that very day.
In a nice show of goodwill, those who purchased the game on iOS prior to it going F2P will receive 20,000 Zhillings – the in-game currency – in an update.
Of course, Catcha Catcha Aliens! received a lot of press when it came out last December because of TV personalities Jonathan Ross and Jane Goldman's involvement in the studio. Ross' genuine excitement in the game and HotSauce Interactive can be seen in what he said when announcing that it was going free-to-play and coming to Android.
"We're quietly pleased with how our first game turned out. An Android version was always in the works but having made the decision to go free to play on iOS devices we decided to wait until we could launch both together. To ensure that everyone who has already purchased the App won't lose out, we are giving free in-game money to everyone who has already bought Catcha Catcha. Two new levels are nearly finished, and we are working on more characters as well as more games. Being involved in this process is even more exciting than I imagined it to be, and I hope that at least some of this excitement comes across in the finished game".
Catcha Catch Aliens is available on iOS now via the
. The game will be released on March 7 on Android.