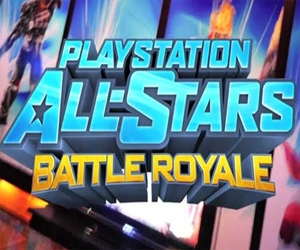 February 13. Mark this date in your diary, fight fans. For that is the day written in the scriptures, that we will be blessed from above with the glorious first bundle of downloadable characters for Sony's Smash Brothers 'Em Up: PlayStation All-Stars Battle Royale. There is also a new stage available on the very same day – a rather curious sounding "mash up" between Wipeout and Heavenly Sword, two very strange bedfellows if I do say so myself.
Who can we expect to be joining the fray, you ask? SCE have updated their blog with the following bios to whet your appetite before the download hits in earnest. Over to you, PlayStation overlords!
Kat graces PlayStation All-Stars Battle Royale with her presence, as an up-close melee fighter who utilises her ability to manipulate gravity to turn the tide in battle. Players who enjoyed Gravity Rush on PS Vita know that Kat loves to bend gravity to allow her to dash, slide and fly from one place to another, and her All-Stars incarnation is no exception.

Those who enjoy AP burst combos and varied mobility will definitely gravitate towards Kat.

Emmett Graves from Starhawk also joins the fray! He brings his signature "Build & Battle" style from Starhawk, calling down different structures to aid him in battle, including Rift Extractors for AP and Flak Turrets that fire at will.

Aside from his default rifle and pistol, Emmett can also call for additional weaponry in the form of shotgun and rocket launcher load-outs, allowing him to adapt to any situation. These load-outs will also change his level 1 super, giving him a total of five supers to choose from!
Kat and Emmett will be available to download from February 13, and will be free for the first two weeks. We have no details currently for how much the new stage is going to set you back, but you can be sure that GodisaGeek will have the hookup once that information drops.
PlayStation All-Stars: Battle Royale is available now for PlayStation 3 and PlayStation Vita