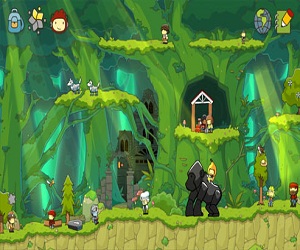 Scribblenauts Unlimited was one of the many North American Wii U launch titles, yet in November, it was delayed in Europe until 2013 for reasons that weren't clear. 5th Cell creative director Jermiah Slaczka said that it was "due to things outside of development" and European had were forced to wait if they wanted to play the game on Nintendo hardware.
It has now been announced that the game will be coming to Wii U and 3DS on February 8. Those who have played previous games in the series will instantly notice that the game is more expansive than past efforts and there is apparently over 20 hours of gameplay on offer.
The Scribblenauts series has had its issues in the past, but the imagination has always been present. Here's hoping that Europeans won't be let down by the next iteration of Maxwell and his notepad.
Scribblenauts Unlimited will be released on February 8 in Europe and is available now in North America for Nintendo Wii U and Nintendo 3DS. The game will be released on February 15 in Europe and is available now in North America for Windows PC