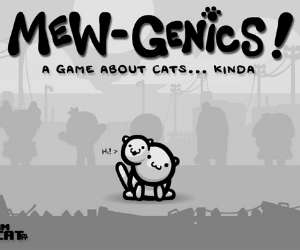 It's been a long time coming, but after 17 weeks of blog posts from Edmund McMillen, he's finally revealed what we can expect from Team Meat's upcoming game. McMillen said that Mew-Genics is like;
"…a cross between The Sims and Pokemon with a sprinkling of Animal Crossing and a dash of Tamagotchi , but at its core the game really isn't like anything we've seen before."
Described as "the most complex game I've ever worked on", McMillen decided to tell a story of his own experiences in the game with a cat named Puddle, who came second in a recent pageant because of her unique tail. In an effort to pass this trait onto offspring, McMillen wanted to breed Puddle but his male cat (Champ), but he wasn't up to the challenge. Then, after spotting a stray kitty, McMillen grabbed him and put Puddle and the new lodger to work, resulting in two lovely kittens. Soon after, it was discovered that the fruits of Puddle and Goon's (the stray cat) actions were narcoleptic and were basically useless in a pageant sense. Arrests and cat aids followed, so it's certainly worth a read on Team Meat's Blog.
McMillen's fairytale expresses the random nature of events within the game and how the player's actions will influence narrative. This is the last incremental update the developer will be posting, but sporadic ones will follow. There's no confirmed release date, however it will be released later this year through Steam, iOS and Android. McMillen even hints we may see this coming to other, unannounced platforms. Either way, I'm sold on Mew-Genics.
The screenshots below will give you an idea of how the game will look, but keep in mind that these are taken from the beta and will most likely not reflect the finished product, 100%.
[nggallery id=1337]