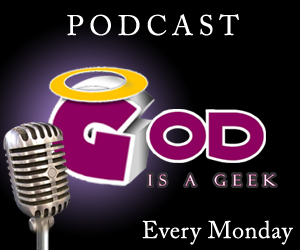 As always, The Godcast has you covered for your weekly dose of brand new video games (and pope) talk. 
Godcast regulars Adam Cook and Calvin Robinson are out on this one with Ding!'s Martin Baker and Saint & Greensie's Colm Ahern joining returning Godcast regular Lee Garbutt for some discussion on all the latest releases. Colm's been playing the charming Lego City Undercover, whilst Lee revisits God of War HD and picks up the ridiculously titled Castlevania: Lords of Shadow – Mirror of Fate. Also, Martin's perception of Tomb Raider has been changed as Crystal Dynamics have made him a believer…oh, and something about 4 Pics, 1 Word.
With SimCity still causing players to tear their hair out, the lads look at the always-online model for single player games and go through the entire launch with a fine tooth comb. As well as that, the recent God of War trophy hoopla is on tap and of course, Joakim Mogren.
Remember, aside from just listening on this very page, we've made it easy to follow the show on as many devices as possible. You can subscribe via iTunes or Feedburner (for you Android users), or you can even listen to the podcast via Stitcher, the mobile internet radio app that we highly recommend. If you'd prefer a simple old-fashioned MP3 download, you can do so by right clicking here then selecting save file.
Show Running Order: