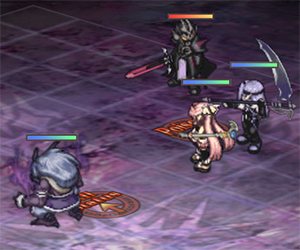 Agarest: Generations of War is Ghostlight's first attempt to launch a JRPG port on the PC, but it needs to get through Greenlight first.
Ghostlight have previously busied themselves in releasing numerous DS, PSP, PS2, 360 and PS3 JRPGs in European territories.
The success of Agarest will decide whether the company pursues more PC releases in the future.
So what is Agarest? We'll let Ghostlight explain it with this excerpt from their official blog post:
Agarest: Generations of War itself is a turn-based Strategy Role-Playing Game (SRPG) in which the player guides a family of heroes through five generations. At the end of each generation the player will choose a girl for their hero to marry, but only those who the hero has developed a relationship with can be selected. The Agarest story is an epic fantasy spanning multiple generations, but with a lot of humour and frequent shifts of tone from the more serious to funnier moments.
Thank you Ghostlight! More information on Agarest, and the place you need to go to make more PC JRPGs a reality, is the Agarest Greelight page over here: http://steamcommunity.com/sharedfiles/filedetails/?id=136433118. Click in, vote, and feel happy.
Simply put, the more Japanese SRPGs I can get, the less free time I'll have to spend thinking 'I wish I had more Japanese SRPGs to play'. So get on in everyone!