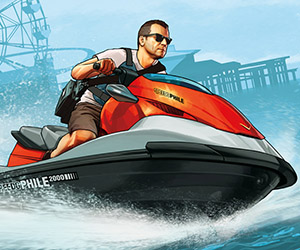 If you aren't aware that a new Grand Theft Auto is coming this year then you're in the small percentage of the world's population that doesn't. Seriously, there are mole people and South African tribes out there who can't wait.
The latest PR onslaught started with the unveiling of the game's official artwork, and now sees the release of two desktop wallpapers taken from the individual artworks that comprise the game's sleeve.
Michael and Franklin star in the latest images, on a jet ski and motorbike respectively, no doubt escaping the scene of some ludicrous/horrifying crime, the wee scamps.
They are just two of the three lead characters who players will be able to switch between in the enormous game set in the fictional city of Los Santos and its surrounding countryside.
GTA 5's other lead character, the psychotic Trevor, has yet to get his own wallpaper, but to be fair he isn't exactly photogenic.
You can download the two wallpapers (and many others) here.
Grand Theft Auto V is set for release on September 17th, which is also Damon Hill's birthday… so that's nice.