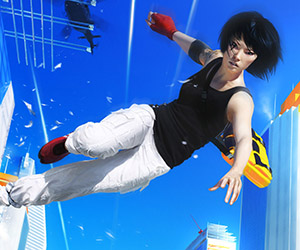 If you're susceptible to motion sickness that might not be a news story for you: Mirror's Edge is getting Oculus Rift support!
In what on the surface appears to be a match made in heaven, EA's cult classic parkour-inspired first person action game will soon be playable on the 3D virtual reality headset Oculus Rift.
Marrying an already immersive and beautiful game with 3D visuals and the head-tracking technology of Oculus Rift makes the mod a tantalising prospect and may, depending on the Rift's success, see a resurgence in the game's popularity.
Oculus Rifts were sent out to developers and those who gave enough to the Kickstarter campaign late last year with a commercial release still being planned.
The headset so far has the support of industry legends like John Carmack, Gabe Newell and Cliff Bleszinski.
If you're lucky enough to own a Rift and want to try this out then buy the game (on PC), before installing the FOV mod and Vierio Perception.
This story also gives us the perfect opportunity to once again beg EA for Mirror's Edge 2. PLEASE MAKE THIS HAPPEN!