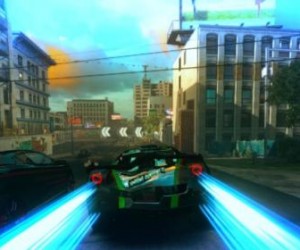 Riiiiiiidge Racer is back once again. Today, Namco Bandai announced Ridge Racer Dritopia which is a free-to-play game which will be released later this year. The downloadable title will come to PlayStation Network and PC (no Xbox 360 mention, funnily enough). There isn't a ton of details on this one just yet, but Senior Vice President at Namco Bandai Europe Olivier Comte did comment on the news:
"At NAMCO BANDAI Games we are committed to embracing new business models alongside the still vital traditional retail sector. Free-to-play is playing an increasingly important role, so it's very exciting to be bringing one of our most successful franchises to the free-to-play space for everyone to enjoy."
Comte couldn't be more on the money. Many devs and pubs that have been working in the retail sector for many years are finally thinking about free-to-play. Obviously, there are those that exploit it, but we won't prejudge Driftopia. However ,I will say that it is a crap name. Almost as bad as Unbounded.
You can check out the announcement trailer, below.