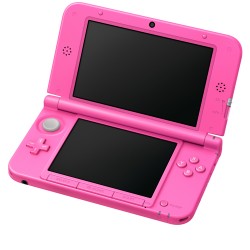 Nintendo have just sent out word that the 3DS XL will be available in a just gorgeous shade of pink next month. Let's go, girlfriends!
Ok, so maybe I'm being a bit sexist, you might be a guy that likes pink. Which is fine with us, pink is awesome. Woo, Pink! Anyway, you'll be able to pick up a pink 3DS XL May 31st in the UK, and why wouldn't you? The 3DS is absolutely smashing it at the moment.
In the last month the 3DS has seen the launch of Luigis Mansion 2, Fire Emblem Awakening and Monster Hunter 3 Ultimate, three massive releases in anyone's book. We're massive fans of the 3DS right now here at GodisaGeek, and with the recent announcement of a 3DS sequel to the magnificent A Link to the Past, well, if you've ever been a Nintendo fan, the 3DS is looking more and more like a decent investment. Especially in Pink, right? Right.