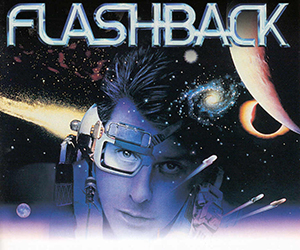 The classic action-adventure is coming to digital platforms, courtesy of Ubisoft.
Great news for fans of classic action-adventure, Flashback. After a leak several months ago, it's now official  (via CVG) that the game will be remade from the ground up. Originally released in 1992 on several formats including Mega Drive, SNES and Amiga, Flashback's rotoscoped visuals wowed gamers with incredibly realistic animation for the time.
Rebuilt in 3D using the Unreal engine, development duties are being performed by VectorCell while Ubisoft will be publishing the game for release on Xbox Live Arcade and PlayStation Network.
The full details, straight from Ubisoft:
One of the best adventure-action games ever created re-imagined by its creators. It's the same team. It's the same passion. Only this time, they have had much more firepower at their disposal to recreate the legendary classic!
Gorgeous graphics, amazing animations. It's the Flashback you've always dreamed of. True to the original spirit but made a million times better by using modern engines such as Unreal and Havok. The makeover is completely stunning.
It's all about Gameplay. The team modernized gameplay mechanics, making the game more reactive, offering new features, like gadgets and an experience progression system. But the developers kept the original formula in mind: a fine balance between rolling and shooting, exploring remote space stations and obliterating hostile alien planets.
Bringing back new memories. The story was revamped to speak to 21st century gamers. Most of the cast of the original game is still here – Conrad, the Morphs – but you can expect new characters and a few twists you're definitely not going to forget… this time.
You can check out the reveal trailer below – A release date has not currently been set.