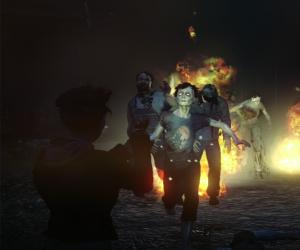 You may not have heard of State of Decay, but after this trailer, you may well be asking: Can I play this now?
The answer is no, it's looking like it'll be released in June, and it's only coming to Xbox LIVE Arcade. But this new trailer shows the gameplay off pretty well, we think. It's fairly gruesome, and even shows a golf club execution, as well as some gorgeous lighting effects during explosives. Zombies are still the hotness, so we're cautiously optimistic that this will be good.
Here's the official word on the game:
The end is here. Life as you know it has gone to hell after the mother of all zombie outbreaks. Now you and the few scattered survivors must band together to survive and rebuild in a 3rd-person action game set in a dynamic open world.

You choose where to make your stand, designing and fortifying your home base, performing daring raids for food and ammunition, and rescuing other playable survivors with unique talents. The open, sandbox world develops in real-time, dynamically generating content based on your choices and the ever-increasing zombie threat.
State of Decay is exclusive to Xbox LIVE Arcade, and is scheduled for a June release.