Most of you are probably aware of Nintendo's first major home console, the Nintendo Entertainment System (or NES). But before the system completely dominated the Western video game market, it started life in its native country – Japan – as the Family Computer (Famicom).
It just so happens that today is the official 30th anniversary of the system's launch in Japan (in 1983), and while the system didn't leave the country until 1985, I feel that now is the appropriate time to look at how important this console was to the industry – as well as to me, personally.
It originally reached store shelves, accompanied by three launch games: Donkey Kong, Donkey Kong Jr and Popeye. All three were ports of successful Nintendo arcade titles. Despite early units having to be recalled, due to an issue with frequent system crashes, the system proved to be a hit in Japan, even before games like Super Mario Bros and The Legend of Zelda hit the scene.
So it made sense for Nintendo to branch out and see if the system could be sold elsewhere. The North American video games market of the time had infamously hit a low point, and with practically every major American company (from electronics retailers to cereal makers) releasing poorly developed games, consumers lacked confidence in the medium. It needed a company with fresh ideas to try and Leonard Herman's book, "Phoenix: The Fall & Rise of Videogames" (an essential read) talks of how Nintendo almost brokered a deal with Atari, to exclusively distribute the Famicom to the West; a deal that had reportedly broken down over the computer and console rights to Donkey Kong.
Instead, Nintendo decided to set up their own American offshoot and distribute the system itself, and the rest is history. Who knows how the system would have turned out, with Atari at the helm?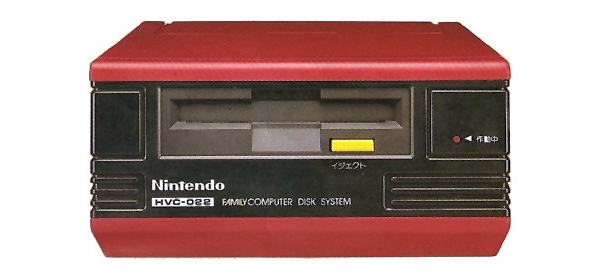 Meanwhile, back in Japan, the Famicom went from strength to strength and was home to some incredible innovations in both hardware and software. The Famicom Disk System add-on was a 1986 peripheral, allowing games to be played from 2″ rewritable disks. As well as allowing for the saving of data, blank disks could be purchased and inserted into kiosks, where games could be written on them for a fee. While these kiosks were taken out of service in 1993, Nintendo continued to support both the disks and the drive until 2003. Famicom units themselves were still being produced by Nintendo up until 2003, and supported until 2007- how's that for a console lifespan?
The Famicom was also host to a keyboard and an early modem that allowed for basic online banking. Meanwhile, one of the system's permanently attached controllers had a built-in microphone – allowing for a bit of karaoke. It's amazing that even back then, consoles still tried to provide more than just games.
So why is it such an incredible console, then?
Firstly, it fascinates me that the system had such a lengthy lifespan, yet developers continued to push the system beyond what was expected of it. Compare the Famicom's very first game (Donkey Kong), with it's last (Adventure Island IV); graphically, both games are so different, yet were developed on the same system. A multitude of different chips and hardware tricks ensured that the system continued to hold its own, even after the 16-bit systems arrived.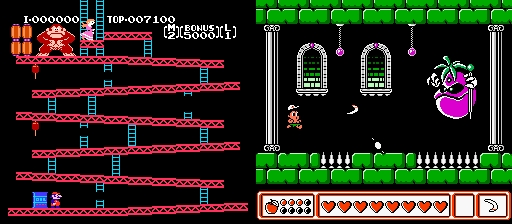 Secondly; the sheer wealth of games available for the system. Around 700 games were released in American/Europe, and another 1000 or so available in Japan. Sure, there were a few stinkers (for every Super Mario Bros. 3, you have to have a few Dragon's Lairs!), but there is an outstanding array of quality games, that still hold up today. Many of the industry's biggest AAA franchises, were either started or popularised on the NES.
Finally, it was the console that defined the control schemes for modern consoles. While originally taken from Nintendo's Game & Watch portables, the Famicom/NES D-Pad is an iconic method of control that has been regularly imitated, but rarely bettered. It was a far cry from the arcade-style joysticks that many other consoles favoured.
My first experience with the NES was in a branch of Currys as a 3-year old. It was a NES demo machine that featured a range of games that could be played by pressing a button next to the corresponding game. My tiny young mind was wowed by the graphics of Super Mario Bros, but I couldn't quite get my head around the idea of jumping with the A button, causing many early deaths at the hands of the very first Goomba of the game. I wouldn't get my own console until quite a few years later.
Until recently, I still had that very same console (I replaced mine with a superior North American model, that I use to capture footage for The Retrocast), and it still runs incredibly well. In the rare occasions it breaks down, I know exactly how to fix it, for only a few quid at most. While the initial games I owned as a 7-year old were of varying quality (Mach Rider, WWF Wrestlemania Challenge, Super Mario Bros. 2 and Teenage Mutant Hero Turtles), these were the games that got me into console gaming, proper.
Later on, I would discover all sorts of titles that would start to build the taste in games I'd have for the rest of my life. True classics like Super Mario Bros 3, The Legend of Zelda, Metroid, Mega Man 2, and DuckTales are games that I still revisit to this very day. They are timeless examples of interactive entertainment, no matter how primitive they look to the casual observer.
Without the Famicom, we wouldn't have the NES – and it's likely the video game industry would be a very different beast if that were the case.
Happy 30th birthday Famicom, you crimson and beige lump of plastic.