Hawken, the free-to-play Mech mutliplayer shooter, has been coming on leaps and bounds since people started playing it last December, that doesn't mean that the developers are going to sit back and put their feet up though; not a chance.
With the recently announced Player Progression Update effectively changing the way people play Hawken, we sat down with Adhesive Games' Producer Jason Hughes to talk everything about the game, the update and the upcoming film.
Where did the idea of making a Mech first person shooter come from?
I think it was our Art Director, Khang Le, that first proposed making a Mech shooter. We knew that some sort of sci-fi FPS would be the best fit for the talent and resources we had available, which was just 4 or 5 people starting out. Some of us had been fans of Mech games growing up, and at the time that Hawken was being conceptualized there weren't many offerings in that genre. So it seemed like a great chance to create something that we could be passionate about, but that would also stand out from other FPS titles.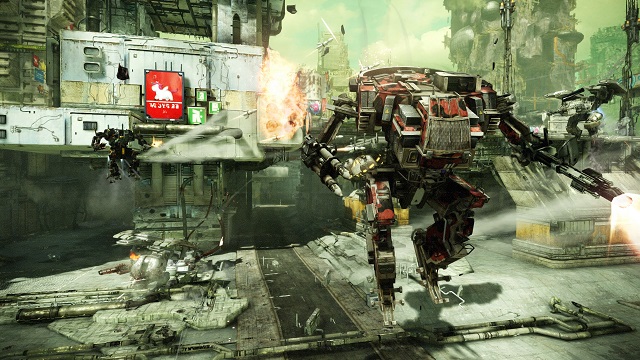 What the decision to make the game free-to-play a business one or was it originally designed that way?
It was originally created as a downloadable title. But the thought was to eventually convert Hawken to free-to-play. We felt the free-to-play business model had very high potential. After we released our first video, we were approached with several opportunities to go straight for free-to-play. So we decided to take that route before the free-to-play market gets oversaturated.
What were the main difficulties with bringing a game that looks like a AAA title to the free-to-play market?
The art assets for the game can be very time consuming to create since our artists have really high standards. Free-to-play games rely on a lot of content updates to offer variety and keep players interested, so that can be tough since we have such a small team. But the biggest difficulty is probably maintaining high quality visuals while still allowing the game to run on low-end machines. The free-to-play model is all about building a broad player-base, and that means you want the game to play smoothly on older pc's and outdated hardware. Improving performance without sacrificing the visual quality of Hawken is an ongoing process here, we're continually optimizing the game.
Was the game always designed as mutliplayer only, or is there scope for single-player campaigns in the vein of something like Armoured Core?
HAWKEN from the very beginning was designed to be a multiplayer game and it was a decision partially made based on available resources. The team that started the project was extremely small and making a multiplayer game can be a bit easier when it comes to having such a limited number of people and a limited amount of time. In multiplayer, games assets can be used a bit more often; there isn't as much of a focus on narrative and all of that can be tackled with fewer people than what's required for strong single player campaigns. Now granted the team has grown in size since the very start of the project of course, but multiplayer was always the focus for HAWKEN. Now, that being said there are other avenues that we intend to explore beyond just competitive multiplayer. In the past we've talked about some of our thoughts about more cooperative multiplayer and we are still intending to offer such modes in the future.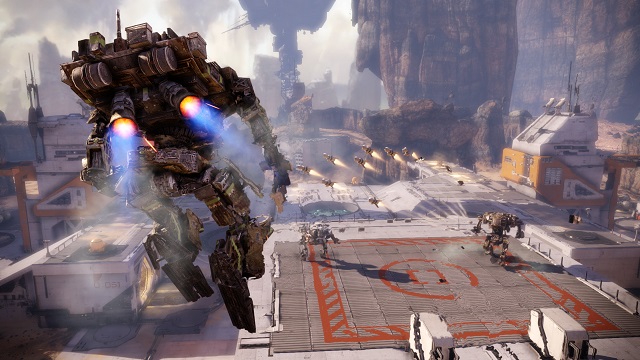 What is the single biggest aspect of the Player Progression update and what does it add to HAWKEN?
The new player experience is a huge focus for us in the progression update. Hawken has some pretty complex systems that may overwhelm new players. Our goal is to guide and educate players about these systems and ease them into the core of the game to make their experience as enjoyable as possible.
Is the Player Progression update addressing players needs or addressing the Free to Play trends?
Player progression is being updated for a variety of reasons; we try to focus on solid experiences for the player no matter what the environment. Even if one were to take the free to play aspect completely out of the equation, we weren't quite happy with the progression that's in the live version of HAWKEN right now and we've had more in our brains for a while. There's a lot more we can offer players to give them more gameplay options, customization options and even more of an attachment to what they're piloting. Free to play does typically require keeping players interested and playing for days, weeks and months and by having a more robust progression system we'll be giving players a real reason and reward for the effort they'll want to put in!
What other HAWKEN content will be supporting the Player Progression update when it's launched?
The updated player progression system touches a wide variety of areas in the game. Practically everything the player does is tied into the new system in some way or another. New game mechanics, customization options… everything.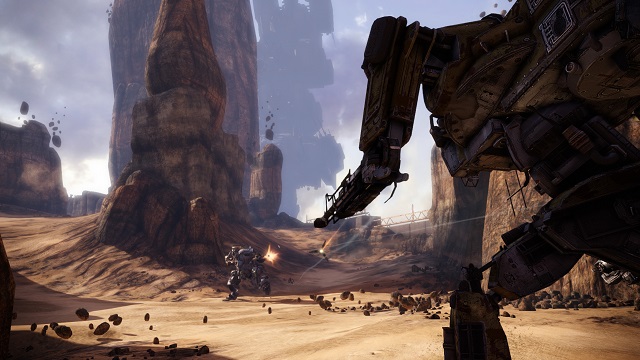 Will we be getting more comics set in the Hawken universe?
We were really pleased with the way HAWKEN Genesis was received, I think it's been a great medium to expand the story and universe of Hawken for the fans so I'd like to say yes, Hawken's transmedia approach to its marketing and promotion was more in tune with its userbase rather than just traditional advertising and reflects the creative aspect of the team.
Any news on the much-rumoured film adaptation of Hawken?
Scott Waugh is on to direct, he directed Act of Valor and from what I know is currently working on the Need for Speed movie, DJ2 will produce alongside the Bandito Brothers. I think Scott was a great choice, he has a relentless kinetic style which I think really captures Hawken's fast pace and heavy hitting visuals. The beauty with Hawken is that there's such a fertile story there to build from and expand the universe and film is the natural choice when you want reach a lot of fans.
What's in store for the future of Hawken?
We still have loads of ideas for Hawken so who knows?, the player progression update we have been working on has been a huge undertaking of work because it affects almost every aspect of the way a player experiences the game so at the moment all of our focus has been on that. Hawken is one of those projects that keeps growing, it's got its own fictional life beyond just the game so there's lots of possible avenues and opportunities for Hawken to keep going and loads more we can introduce into the game to evolve it further.
Where do you keep your ketchup/tomato sauce? Cupboard or fridge
Cupboard.
Thanks to Jason Hughes for taking the time to sit down and have a chat with us. Don't forget to get in on the Hawken action by heading over to http://www.PlayHawken.com.