So you bought an Alienware X51 off the back of our 10/10 review and now you're ready to upgrade it? We've shopped around and done all the hard work for you, so you can just pop in a few components and bring a new lease of life to that beauty of yours, without having to worry about mixing and matching the correct parts for the job.
Potential upgrades covered in this article:
RAM
SSD
Case
Graphics Card
RAM
When it comes to memory, Crucial offer a fantastic Memory Advisor Tool on their website, which simply requires you to input your computer information, and they'll recommend the best RAM upgrade for you. This is amazing, we would like to see this kind of thing on more manufacturer's websites. It basically takes out the worry of "will this fit my computer" or "is this the right RAM for the job?"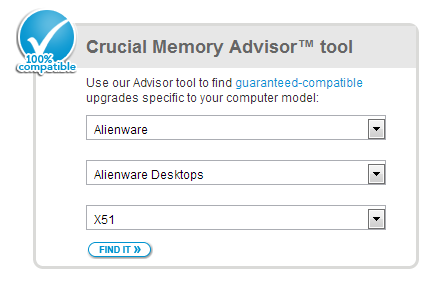 In our case, the Crucial Memory Adviser tool suggests the following RAM, which comes in at around £101.99:
Module Size: 16GB kit (8GBx2)
Package: 240-pin DIMM
Feature: DDR3 PC3-12800
Specs: DDR3 PC3-12800 • CL=11 • Unbuffered • NON-ECC • DDR3-1600 • 1.5V • 1024Meg x 64
This works great, as it essentially doubles the RAM from a standard 8GB to a more extreme 16GB. That should keep you gaming for a few years yet.
Hard Drive
There's just enough room in the X51's case for an additional hard drive. You have space for a 2.5 inch laptop style HDD, or the better option, a 2.5 inch SSD (Solid-State Drive).
We recommend you go with a 120GB SSD, as anything higher than that is still very much over priced, and anything lower will not provide enough space. The idea is to install your operating system and a few essential programs on the SSD (maybe your most played game) for that ultra-quick start-up time, then install everything else on your regular HDD.
As well as the standard SATA data cable, which connects the SSD to the empty slot on the motherboard, you'll also need to purchase a Y-connector cable to split the molex power from the pre-installed hard drive, to provide a SATA power link to the additional SSD. These can be bought really cheaply on Amazon US | UK.
We went with one of the most reliable SSDs currently on the market, the Kingston HyperX 3K, available in 90GB, 120GB, 240GB, and 480GB.
Interface: SATA Rev 3.0 (6Gb/s), SATA Rev 2.0 (3Gb/s)
Sequential Read/Write (SATA Rev. 3.0)2: 555/510MB/s
Sustained 4KB Random Read/Write3: 20,000/60,000 IOPS
Max 4KB Random Read/Write3: 85,000/73,000 IOPS
This SSD offers fast read/write speeds, and comes with an external USB case, for those who prefer to use their SSDs as an external drive. The 120GB unit sells for £129.59.
Graphics Card
The graphics card in your X51 very much depends on when you bought your PC. The Alienware engineering team have been constantly upgrading the units and squeezing in as high a performance graphics card as physically possible.
At the moment, the highest performance nVidia card confirmed to successfully fit into the X51 without any modding is the GTX 670. This is a brilliant card and pretty much a case of popping out the older GTX 555 or GTX 660 and slotting the replacement in.
If, however, you'd like to go all out and upgrade to something more meaty, like the nVidia GeForce GTX 770 or even something as high end as a GTX 690 or Titan, you can. They will work, but you're going to need to re-seat your computer into a slightly larger case in order for them to fit.
We found the GTX 770 worked brilliantly with the X51, and made games run a lot smoother. We compared 3DMark 11 scores with the default GTX 555 and the upgraded GTX 770. As you can see below, the improvement is remarkable.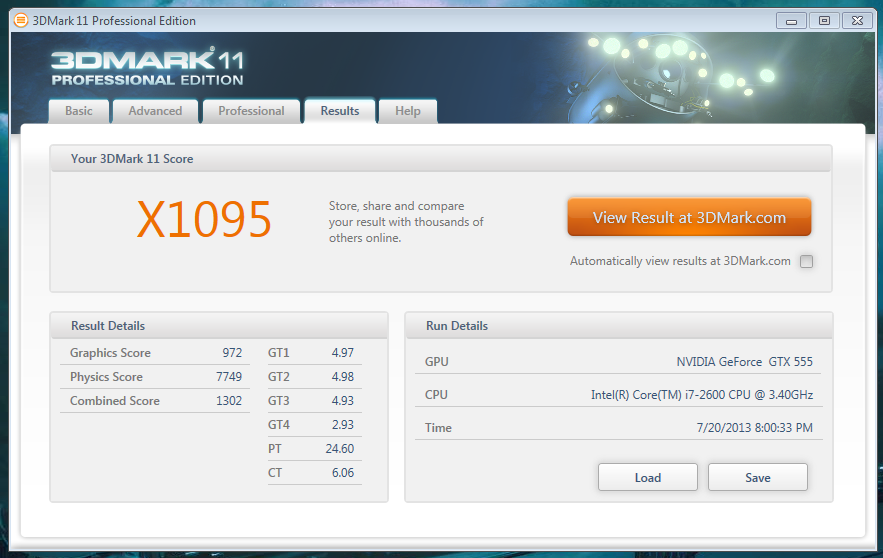 Case
In order to improve our graphical performance, and also add some extra airflow after upgrading the RAM, we had to re-seat our Alienware X51 into a new case. We went with the Fractal Design Define R4 Case for a few key reasons: ventilation, space, and silence! This case is known for it's quietness, and it's extremely well ventilated. As you can see in the video review below, there's an abundance of space, especially for such a small midi tower case. That, in part, is due to the modular design of the hard drive bays – which pop out for additional graphic card space.
Power Supply
The X51 is, of course, a small form factor PC, and one aspect of that design is the rather small Power Supply Unit. To get more performance out of the system with better components – especially graphics cards – you're going to need a better PSU.
As a perfect fit for the Define R4 case, we went with the Newton R3 also from Fractal Design. This 600W PSU has a modular design, meaning you only need to attach power cables that you'll actually use, in turn keeping the case tidy.
An important aspect of the Newton R3 is its almost silence performance. It's really well ventilated, but somehow makes very little noise. This is important, as the X51 is usually such a quiet machine – it wouldn't make sense to lose that when upgrading.
Round-up
These upgrades can improve your Windows Experience Index rating from a measly 5.9 to a very impressive 7.6 out of 7.9! The idea is to provide your lovely Alienware X51 with a few more years of hardcore PC gaming.
If you have any specific questions, please feel free to drop us a comment below and we'll try to help advise you where we can.  There are also a lot of very helpful people over at Alienware Club forums on Dell.com, and the Alienware Arena Hardware Forums.