When you first boot up EA Canada's commendable NHL 14, you are presented with the same kind of video package they delivered last year, which provides a dynamic look at some of the new features you can enjoy in their yearly on-ice overhaul. The pre-release spiel spoke about improvements to the fighting engine, a concept that non-continental United States sports fans may have found a bit odd. But in ice hockey, there is a macho code of honour, which states that if someone picks a scrap with you, it is almost an acceptable part of the game to throw down and give them a good hiding. And boy, does the opening video focus on this aspect of the game.
It spends several minutes describing the many new ways you can beat the crap out of your opponents when the gloves come off, thanks to the implementation of the Enforcer Engine (which is essentially Fight Night technology), and applies worryingly dynamic bruising and bleeding to the visage of your foe. "Is it even a sport?" was one comment from a companion not au fait with proceedings, as EA demonstrated someone being pummelled repeatedly until they crumpled unconscious to the ice. In a first exhibition match, a Trophy was unlocked simply by putting someone to sleep using the many analogue stick combos and the ducking-weaving movements now part and parcel of the third person fighting sequences. There is even a rousing Dropkick Murphys tune on the soundtrack, seeming to indicate that at any time your game experience is inevitably going to devolve into a wild, unbridled scrap.
As ridiculous as this may seem to us Brits whose sporting violence doesn't stretch much further than Fernando Torres scratching the face of Jan Vertonghen like a miscreant toddler, it is only a small part of the fine sport of ice hockey; a sport that has produced many excellent videogames over the years, its fast-paced nature translating rather well to the small screen. Last year's NHL effort quietly went about its business of being one of the best sports titles of the year, and thanks to some other non-fighting improvements, we have another excellent effort on our hands this time around.
The superb player physics from last year have been tweaked to bring NHL more in line with the Player Impact Engine featured in the FIFA-verse, meaning that collisions feel meatier and more satisfying. Rather than having to trigger collisions manually, you can now skate at full-pelt towards an opposition player, and if you have built up enough speed you will automatically check the dude in control of the puck. It doesn't always work out how you would like it to, however, and variables such as the size of the players involved and the amount of speed you have managed to accrue come into play. If you aren't travelling fast enough, you may simply get brushed off and end up on your arse. The same principles apply when you are the puck carrier.
There are some spectacular hits, and like Tiburon's Madden games, the players seem to have an unprecedented number of animations and potential movements. When you are jostling with your opponents against the boards, the exchanges feel weighty and realistic. The enhanced physicality and improvements to the skating and deking balance themselves out nicely. There are so many ways to score, and so many tricks to learn, that the possibilities are almost endless when on offense. You can even tweak the difficulty, which affects things like the speed of shots, the AI of opposing teams, and even how often fights break out. The gameplay is undoubtedly quicker than last year, but not to the point that you don't feel in control, or the experience becomes too wild and arcade-like.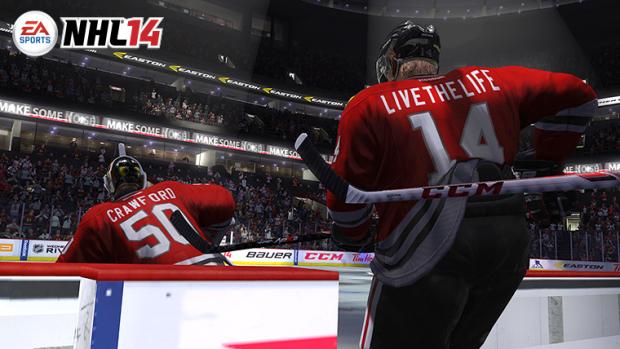 That isn't to say that this side of things isn't covered, too. Madden 25 played upon the quarter century history of the franchise, by using logos and screenshots of past games to spruce up the front end of the package. NHL 14 goes one step further, and celebrates the 20th anniversary of one of its finest moments by including a brilliant NHL 94 throwback mode. Although sadly exhibition only, the 94 mode brings back the classic top-down view, star-shaped player boxes and simple face button controls to evoke memories of classic MegaDrive encounters from days gone by. The nice customisation options mean that you can also use the NHL 14 controls in this mode, or mix things up to your liking.
Joining what is essentially NHL 94 HD is the returning Winter Classic experience, which recreates the undeniably exciting outdoor games that traditionally take place on New Year's Day. The outdoor settings and crowds look incredible, and there is a real sense of sporting history and occasion in these encounters. Indeed, EA have yet again created one of the finest-looking sports games you will see. The crowds are more detailed and impressive than any other EA title, and the players themselves feature a great deal of care and attention, right down to visible scars or, in the case of Russian legend Alexander Ovechkin, missing pearly whites.
Fans of the immersive EA Sports experiences are amply covered, too. GM Connected Career, Online Leagues (which now feature promotion and relegation) and the kooky trading card malarkey all return from previous encounters with NHL. Be A Pro has evolved into the Live the Life mode, which allows you to sample what it is like to be a hockey player both on and off the ice. It is essentially a fairly lightweight sports RPG, which involves things like taking part in the Draft, interacting with your teammates, and playing up to the media.
VERDICT: Whether you like the sport or not, NHL 14 offers plenty to veterans and entry-level players alike. Ice hockey is not as complex and intimidating as the playbook-driven world of the NFL, or the stats-obsessed MLB. Like the end-to-end simplicity of basketball, it is obvious what you are on the ice to do – score goals and kick some ass, but there is a real depth to gameplay and how you can accomplish this. As such, with the benefit of some great training tutorials, before long anyone can be carrying out line changes, deking with the best of them and carrying out a brilliant selection of slapshots, pivots and, of course, brutal punches to the face. Long term fans will love the physics and appreciate the nods to a much-loved twenty-year-old classic. A fine way for EA to sign off on the current generation of consoles.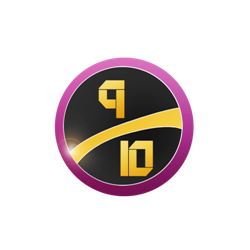 SUPERB. This is the mark of greatness, only awarded to games that engage us from start to finish. Titles that score 9/10 will have very few problems or negative issues, and will deliver high quality and value for money across all aspects of their design.