Release Date
September 15, 2016
NHL 17 was always going to have a tough time trying to build on the merits of last year's wonderful NHL 16, but it has a damn good go at it. On the ice, NHL 17 plays phenomenally and can easily wear the mantle of best ice hockey game on the market, with new modes like Franchise, Draft Champions and the World Cup of Hockey giving you plenty of ways to play.
A few games into my first season with the Toronto Maple Leafs gave me one of the greatest games of ice hockey I'd ever had. It ended 6-5 in favour of the Detroit Red Wings, but I felt like I was putting up a fight and improving my game with every quarter. I'd won the first two games of the season in overtime, and I was still finding the best ways to make the most of my offensive and defensive lines, but Detroit managed to exploit my weaknesses and break through my defence like none of the other teams had. I began to see where I was going wrong and although I lost, my game had improved significantly from the start of the first quarter.
There are improvements to goalies in NHL 17 which make it difficult to score if you don't try to mix things up. They get in better positions and block more realistically this time, providing a better challenge when trying to score. When around the goal, scrapping for a goal is much more frantic, with the goalie and defence thrashing sticks with purpose. A game against Ottawa saw me hammer the stick to score, but fail to tap one in due to the aggression and poise of my opposition; it ended in a fight and a penalty, but the excitement far outweighed the punishment. Moving around the ice and shooting feels better than last year's, but passing can still prove tricky. The guidelines show up, but they don't always show the best option for you, and the puck can be intercepted when you make a wrong pass a lot quicker than before.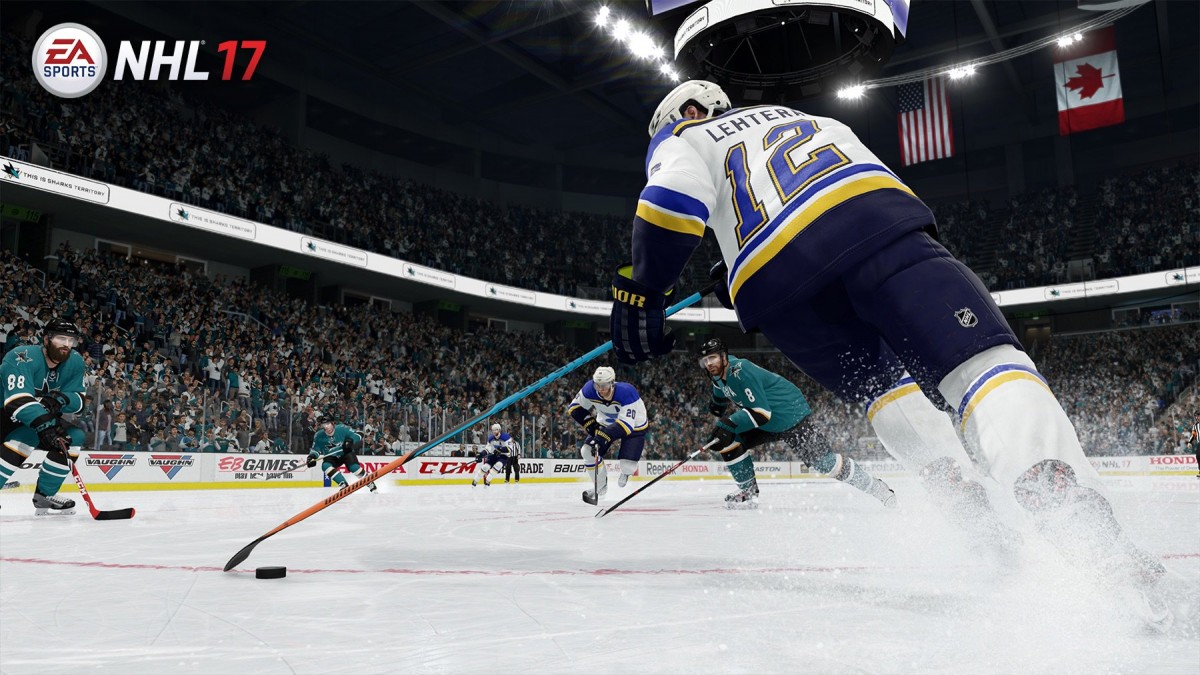 The on-ice trainer is back, but it has been greatly improved and gives you no end of advice. As each match begins, it'll give you aid on when to pass and when best to shoot. The new coach feedback feature works in tandem with the trainer and does a fantastic job of adding new skills and moves to the on-ice trainer based on how well you do when defending and attacking. Whether you're new to ice hockey or not, the on-ice trainer builds your skill level up and you really feel it helps improve your game no matter what your experience is.
When each quarter ends or you happen to pause the game, the coach feedback screen shows how you're doing on defence, offence, team play and in general by way of a grading system. You'll also get told how you're performing by the coach; if your aiming is off, it'll tell you to spend that extra second looking for an opening as opposed to just hitting the puck and hoping for the best. EA's NHL has never been as accessible as it is right now, and these tweaks to gameplay give you so much help in making you a better player.

In terms of new modes, Franchise mode is the most obvious, taking the "Be a GM" mode from last year and fleshing out the control you have over every aspect of your favourite team. Not only do you get to alter your team's lines, squad numbers and positions, you can play with the finances and maintenance side of things. You can tinker with your concession stands and improve on the types of food and drink items you can sell, and expand the stadium's car park or stadium itself to bring in more revenue. If the toilet facilities are a bit rundown, you can spend money on making sure they're repaired. Everything revolves around managing a budget and making sure you spend wisely.
If the fans aren't happy, the money's never going to come in. Along with improvements to the stadium, you can arrange promotional nights for the fans where you'll give away freebies like player bobbleheads and T-shirts to improve the happiness of the fans. Keeping on the pulse of your squad's morale is also key, and managing their contracts and injuries within the team is just as important. You have utter control over every facet of your team and it makes every win mean something because not only are you getting the intrinsic joy of winning, you know you're bringing in the money as well.
Some of the other modes in NHL 17 have been improved since last year. The EASHL returns, featuring new ways to customise your players and stadiums with an overwhelming amount of things to mess with like scoreboards and your player's attire. The more you play, the better items you earn so it pays to spend time in this mode. The range of badges you earn for completing certain tasks is commendable and you really feel like you're achieving something.
Draft Champions is now included in NHL 17, and if you've played other EA titles like Madden, you'll be familiar with how it works. After 12 rounds of picks (from a range of categories including young players or famous NHL alumni), you can take you cards online to battle other players around the world. Ultimate Team is also back, and EA's most successful mode has had a few upgrades like the synergy system, making it even better to build your team and relinquish cards you no longer want.
NHL 17 is a great entry into EA's ice hockey series, with gameplay being at such a high level. Players of all skill levels get advice on how to improve, and every team feels different to play against. The franchise mode is a much better inclusion than last year's Be a GM, and the other modes will give you plenty to do. The presentation is second to none, and it's even better than last year. Whether it's the commentary team's enthusiasm, the authenticity of each stadium or the variety in player celebrations and reactions, NHL 17 looks and sounds excellent.
Positives
Coach feedback and on-ice trainer complement each other well
Playing ice hockey has never felt so fluid and responsive
Authentic, gorgeous visuals
Negatives
Some modes feel very similar to last year's
Passing can sometimes prove frustrating
If you're looking for an authentic NHL game with excellent gameplay and plenty of modes, this is definitely the game for you.