Anyone with even a passing interest in manga, anime, or indeed the beat 'em up genre can find something to love in the works of CyberConnect 2. They operate in a world of high bombast; of living, breathing cartoons. Their titles may not be overly deep in their complexity, but offer supremely entertaining experiences that are as fun to watch as they are to hammer the buttons to. The last Ultimate Ninja Storm title was a classic example of their wares.
Bringing the game further in line with the ongoing manga story arcs, Full Burst still takes place during the Fourth Ninja War, but takes things a little further along the road with a new chapter, even indulging in a bit of on-the-fly storytelling of its own with a brand-new ending of sorts. The story is told using a huge number of cinematic sequences, which are now crafted in the finest high definition. You can even engage the old stereoscopic 3D, if you have the capability to do so.
If you're not already a fan of the franchise, chances are that many of the cutscenes will have you hitting the SKIP button, as they have a running time that would trouble an episode of Corrie. The entertainment is undeniable, however, particularly when a movie sequence segues effortlessly into a terrific battle under your control.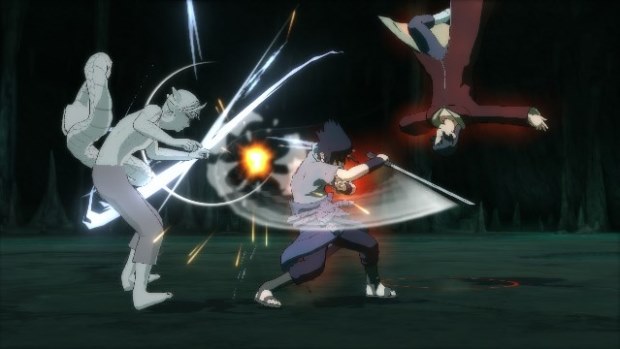 Storytelling aside, the Full Burst experience does not tinker with the Ultimate Ninja Storm 3 gameplay whatsoever. Where a Street Fighter tweak may address character balancing issues, there is no such technical attention to detail here. The proper fights are still big, dumb fun. QTEs, ri-donk-ulous Ultimate Jutsu attacks, button mashing and splendid trans-morphing Awakenings are present and correct. Apart from bosses that in the grand tradition of fighting games are cheaper than hell, fights are designed to be accessible to everyone. Rather than having to learn complex joystick acrobatics and multiple button combos, the prevalence of QTE sequences and use of teleportation, support characters and basic attacks keep things nice and simple.
Away from the enjoyable core gameplay, the expansive yet rigid story mode mixes in some dull village-wandering and occasional side-scrolling levels to accompany the kick-ass set-piece encounters and multiple trips down Cutscene Boulevard. Once you beat the story, you get to mess around with some interesting sub-quests that allow you to upgrade some of your support characters, making them more effective in battle. There are the usual versus and online modes, with the code noticeably more stable in the latter than last time around.
The most significant addition to Full Burst is the crop of Challenge missions, which engages you in a splendid century-long gauntlet of battles, that feature a variety of different conditions and parameters. Defeating missions unlocks high-def wallpaper artwork, meaning fans are rewarded for their efforts while having great fun. It gives an extra lease of life to proceedings, but more importantly gives you more of the best bit of the game. One cannot help feel that saving this for the expanded release is a bit cheeky, as virtually every other fighting game on the market features similar missions as standard, day-one out-of-the-box content.
VERDICT: Full Burst is more of an expansion than a brand new entry in the series; in fact, it's available as DLC for those who own the original release. If you didn't indulge in the previous offering, then what is bundled in with the Full Burst retail release offers excellent value. The additional content is not exactly huge, though: a few extra costumes for what is essentially a cookie-cutter roaster of characters, and just one additional face added to the mix (and a ridiculously overpowered one, at that) balance that out against the fan-servicing additional story and the fine Challenge Mode.
VERY GOOD. An 8/10 is only awarded to a game we consider truly worthy of your hard-earned cash. This game is only held back by a smattering of minor or middling issues and comes highly recommended.
Review code provided by publisher.