In a bid to position Naruto Shippuden: Ultimate Ninja Storm 4 in the pro-gamer fight scene Bandai Namco have launched The Storm Championship.
Bandai Namco are inviting people who believe the game is about nothing more than button mashing to put their attitude where their mouth is and compete for a share of a €15,000 prize pool.
"For the past few years we have been monitoring the growth of the STORM community across Europe, Middle-East, Africa and Australasia but also the growing interest around the competition. Last year we have launched the STORM-LEAGUE, a platform to support those activities…" said Benoit Scappazzoni, the project manager for Bandai Namco Entertainment Europe, "This year we go even further by organizing the first season of the STORM Championship through the STORM-LEAGUE! The first season will have a total cash prize of 15 000€ and starts this week! Get ready for epic battles and see you at the finals in the ESL Studio (Cologne)"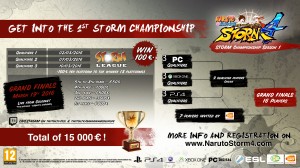 You'll find more info on the official site.
Chris said Ultimate Ninja Storm 4 has some of the best fighting mechanics he's ever played in our review where he scored it 9/10.
Think you've got what it takes? Then practice your jutsu, sharpen your kunai and meld your chakra, it's time to fight.