In case you didn't know, rally car racing is popular. Like, really popular. In fact, rally car racing has over 800 million TV viewers, over 3.6 million spectators lining the winding roads in over 13 countries throughout the season, and is the second best known motor sport after Formula 1. It's no surprise that there exists a strong demand for a quality game that captures the raw intensity, gravel-spitting turns, and general spirit of the off-road racing circuit. Enter World Rally Championship 5, the latest entry in the series and the official game representing the WRC circuit.
Although publisher Big Ben Interactive has shepherded the WRC series for years, this is developer Kylotonn Games' first entry in the long-running franchise. Based out of Paris, Kylotonn was founded in 2002 and has worked on over 25 games, specializing in racing and simulation games. In fact, for several years Kylotonn has worked closely with Renault and the Association of French Driving Schools to provide detailed and precise driving simulations. Now, the developer is taking everything it knows into the rally car world to bring WRC to next generation platforms.
"For me, WRC 5 is a new challenge," says Game Director Alain Jarniou, "with the series starting again from scratch and its release on new generation platforms."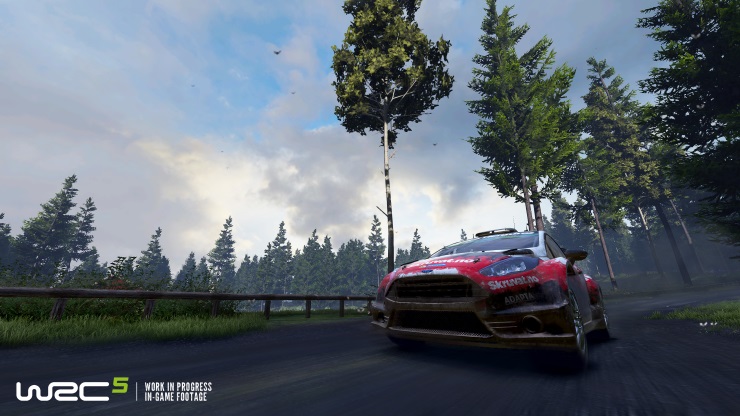 So, other than the platforms the game will appear on, what exactly is new about the series? For starters, Kylotonn has developed and improved their in-house next generation game engine, the Kt Engine HD. This engine allows them to create one of the best looking rally racing games ever, complete with real-time particle and light effects that change depending on the time of day. The game also features a dynamic weather system, so tracks can change from sunlight to snow, or from clear skies to rainclouds. All of these conditions affect the tracks and the strategies drivers need to use in order to pull ahead of the pack.
In addition, Creative Director Diego Sartori stresses that the feel of driving over different surfaces in WRC 5 has been improved.
"The fact that the car handles so much differently depending on the surface is a step up," Sartori says. "I think it is what previous offerings have lacked. If you're on gravel and transition onto tarmac, the car feels completely different. Not just a little bit. It's completely different."
As fans might expect, WRC 5 portrays the current 2015 season. The game features tracks from all 13 countries visited on the official tour. There are three classes: WRC 1, 2, and 3. The primary, top tier class is WRC 1, where the best rally drivers in the world compete. The game features all the official drivers and teams from WRC 1 and select drivers and teams from WRC 2 and 3. In total, WRC 5 includes 51 drivers, 65 special stages, and 13 official rally races, inspired by real-world geographies. While these official tracks aren't exact replicas of actual tracks, since organizers change their design so frequently, Kylotonn has tried to stay true to the spirit and features of each country's track.
WRC 5 features both single-player and multi-player portions, although I was only able to get hands-on time with the single-player. In this mode, players have the option between Quick Stage (pick-up-and-play races), Rally School, a stand-alone component that acts like an extended, in-depth tutorial, and a Career Mode. In Career Mode, you start in WRC 3, the lowest tier, and must work your way up, season by season, to the WRC 1 tour.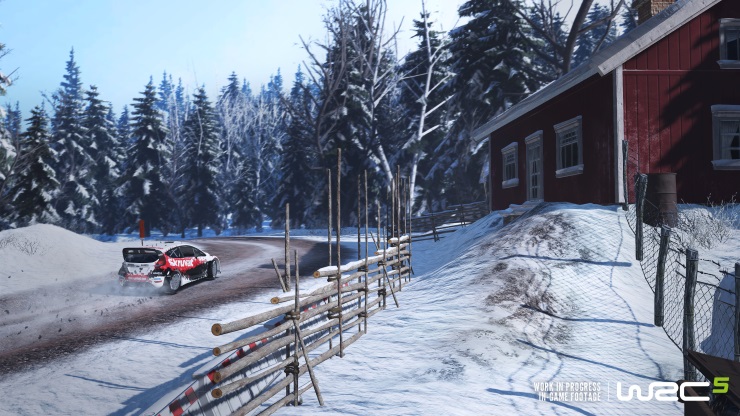 Part of the challenge and fun of rally car driving is navigating complex, winding, off-road tracks while going as fast as possible. There are four different surfaces to drive on and master: snow, gravel, tarmac, and wet-gravel/mud. You will have to match the correct tire and car setup to the correct surface, although even then, you'll still need to deal with the unexpected turns of the road. To accomplish this, the developers include a digital co-driver to call out upcoming turns. Unfortunately, WRC 5 does not include a mode that allows a human player to act as the co-driver, but the developer may consider this option for future versions of the game.
My brief hands-on preview of the game felt good, if not a little underwhelming. Most players will want to press on the gas during all too infrequent straightaways, but unlike arcade racers, finesse is required here. Carefully switching between breaks and gas, and making use of the hand-break for hairpin turns, is a must in order to win races. Indeed, trying to take corners too fast will end in a spinout or damage to your car. For fans of simulation racers, or rally car racing in particular, this kind of fidelity will no doubt be appreciated.
The greatest thing WRC 5 has going for it is a relatively competition-free marketplace. By all accounts, the series is poised to own the rally racing space when it releases October 2015, especially for fans of the official world rally car circuit.