Having dabbled with projectors over the years, I've never truly found them to be a viable alternative to having a TV set up, with all your boxes and consoles underneath it. The compact nature of everything just being there, in the one place – together – is how it's always been. Having to "consider" how you set up your systems always seemed like too much work, and something I'd never actually think about doing.
Until now, that is.
Having a 3D-ready, full 1080p projector kicking out, quite frankly, the most enormous sized screen on your wall is enough to make anyone think about it, of course, but the Acer is so simple to set up, and feels like such a great piece of tech, that it all feels worth it. Even down to the generous two HDMI inputs (it doesn't sound like a lot, but previous models I've played around with only have one), and the fact it'll throw up a 50 inch-plus screen from less than a meter is not to be sniffed at. With a simple zoom and focus above the bulb, you can put this unit in a moderately sized room, and indeed a small office, and have a huge 1080p screen on your wall.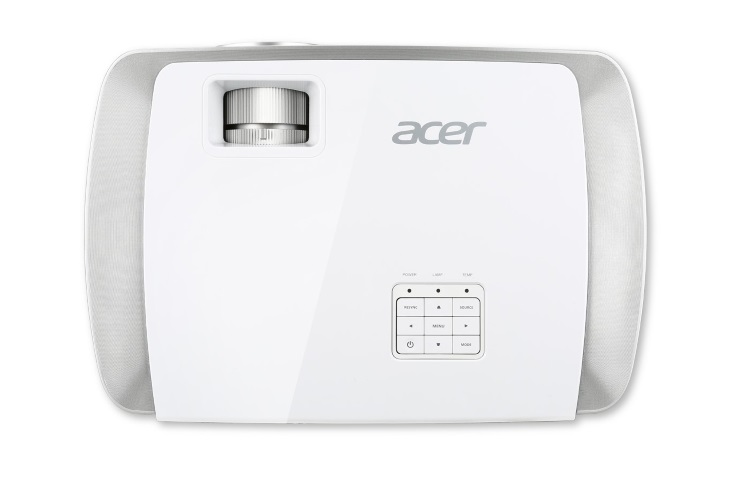 Indeed, the days of having to buy a separate pull-down white-screen are long gone. Here, you can set it to adjust according to what colour your wall is (mostly) made up of. On a brown wall, setting the colour to black, I could barely tell the difference in picture between a 20-inch monitor and the large projection, despite them outputting exactly the same image via a HDMI splitter. It was actually only when streaming video via the internet that you can notice the quality difference, and that's due to the source – and the fact I'm yet to find a video provider whose quality is as good as it should be.
One thing that is worth considering is the audio. While the H7750ST has built in audio, if you were going to mount it on a ceiling, you might need an alternative option. In the middle of the room, the audio is surprisingly decent. Bass isn't quite as strong as I'd like it, but everything else is fine. It's clearly designed for larger spaces, as even at minimum volume (above zero) it's a fairly loud unit. That said, the volume intervals seem off, and incredibly loud is never ear-bursting. A decent soundbar or surround setup wouldn't go amiss, but then you have to factor in cabling it all.
In fact, one of the few negatives to this unit is the included cables. For some bizarre reason, this model came with an American power cable. Luckily I have a travel adapter, and a few spare kettle plugs, but regardless, it's odd. Furthermore, unless you have power plugs in your ceiling, or very high up, you're going to need to find an alternative solution. It's not a deal breaker, and it's a little harsh to expect a four meter long power cable in the box, I guess.
What the Acer does, however, is make me appreciate large screen entertainment. I've been used to my 42-inch screen for a while, and never found myself wanting bigger. But now, I'm spending far more time in my office, even when it's just watching TV. Gaming brings it to life, and there's no noticeable latency on show. At one point, playing Rocket League on such a huge screen made me feel quite dizzy, such is the frenetic nature of the game.
Flipping to a cinematic experience like The Witcher 3 or Batman: Arkham Knight truly makes you appreciate the art direction and graphical power that goes into making modern games. It's easy to just lose yourself panning the camera around. Switching on the Wii U (a place you can be sure of 60fps, at least), Mario Kart 8 looks phenomenal, as does Splatoon. What I'm saying here is that the colours are vibrant, the blacks deep – there's just nothing much to complain about.
It even wins out when it comes to connectivity. The aforementioned two HDMI ports are accompanied by VGA inputs (in and out), as well as the standard audio ins and outs. Interestingly, there's a hidden compartment found when you're changing the bulb that reveals a third HDMI port. Obviously you're not going to cable into that, it's clearly designed for plugging in something like a ChromeCast. There are two sets of 3D glasses included, and it can convert 2D to 3D – though I wouldn't recommend doing that, really.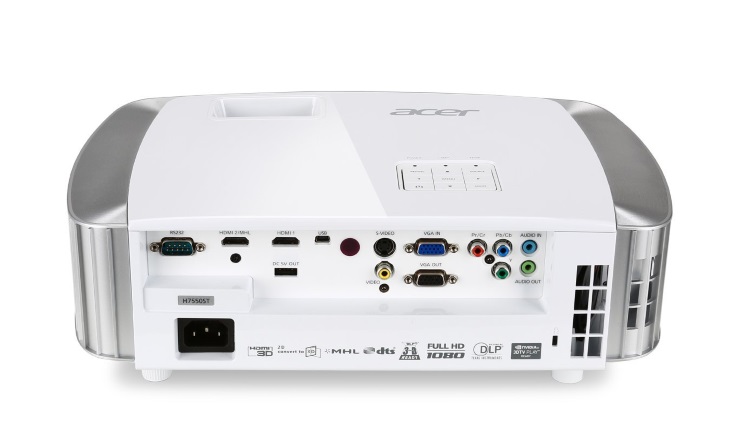 The fans kick out quite a bit of heat, but in comparison, they're quieter than my launch PS4 when it gets going, and if you're settling down for a movie, it's likely the volume will drown out any potential fan noise anyway. You could possibly argue that for the price, you'd want an automatic focus, or a way of doing it mechanically via a button on the remote, but it never takes much more than a few seconds, and if you're going to leave it in one place, it's simply not an issue.
The H7550ST changed me in a weird way. No longer am I content with the TV in the lounge, large as it may be. Projectors have always been a fascination of mine, but the Acer is the first I've used that has truly converted me, and I'm now trying to find ways of cabling into my ceiling to make it a permanent fixture. This isn't a cheap unit at over £600, but if you're in the market, and if you can get the chance to see it in action or test a friend's setup, this will probably convert you too.