Revolution share launch trailer for their 25th Anniversary Collection
British studio Revolution have shared the launch trailer for their 25th Anniversary Collection, which is due to launch tomorrow exclusively on PC.
"We are so privileged to have been able to write adventure games for 25 years, thanks to the support of our loyal community," said Charles Cecil, Founder & CEO of Revolution. "This collection brings together, for the first time, all the games that we have written, as well as extras such as comic books, posters, audio CD, a USB stick and a two-hour video telling the story of Revolution with key team members and creative partners such as Dave Gibbons, Rolf Saxon and Barrington Pheloung."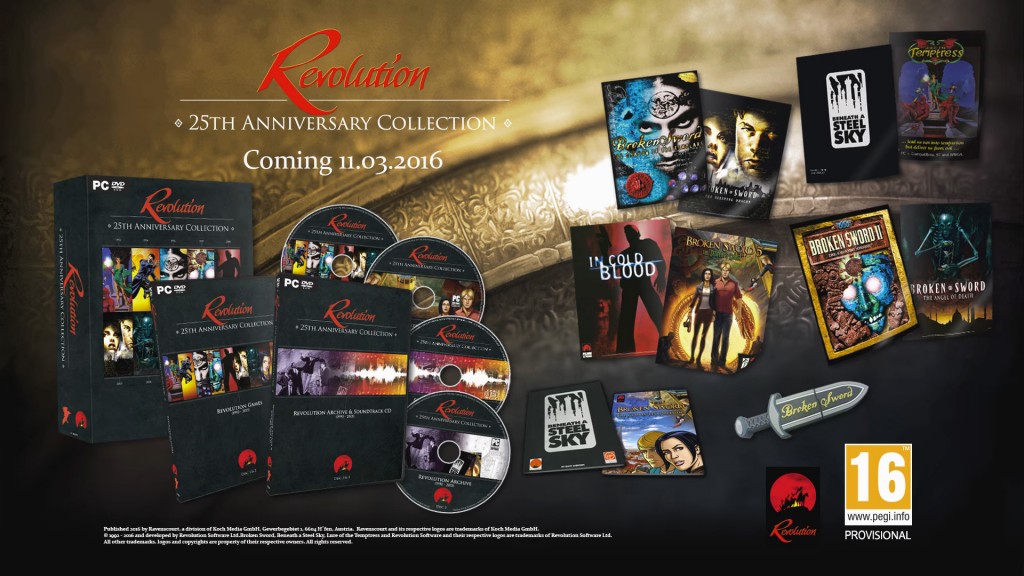 The collection contains the full catalogue of Revolution's games:
Broken Sword 1 – Shadow of the Templars
Broken Sword 1:  Director's Cut
Broken Sword 2 – the Smoking Mirror
Broken Sword 2: Remastered
Broken Sword 3 – the Sleeping Dragon
Broken Sword 4 – the Angel of Death
Broken Sword 5 – the Serpent's Curse
In Cold Blood
Beneath a Steel Sky
Lure of the Temptress
The collection also comes with a comic compendium for Broken Sword 1, 2 and 5 as well as a Beneath a Steel Sky comics, both by David Gibbons and Angus McKie. Four double-sided posters are also included, along with a Broken Sword USB with all of the games' soundtracks, an audio CD made up of selected tracks, an interactive timeline of the studio's history as well as six episodic documentary movies covering the creation of all Revolution's games.
Revolution 25th Anniversary Collection hits stores tomorrow. See the launch trailer above.