God is a Geek Podcast Episode 17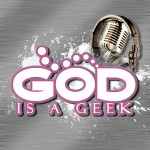 A new Call of Duty: Black Ops multi-player trailer has been released, Calvin gives us his opinion on Treyarch's latest FPS with an interesting analogy. Asim tells us all about Batman: Arkham City and reveals the possibility of some co-op action. Jade Raymond, Splinter Cell, Prince of Persia and Assassin's Creed: Brotherhood Collectors Edition are also discussed in episode 17 of the God is a Geek podcast.
Topics of discussion include:
– Call of Duty: Black Ops, do Treyarch have what it takes?
– Batman: Arkham City has been announced, are the team looking forward to playing as the Dark Knight once again?
– Assassins Creed: Brotherhood – Collectors Edition
– Jade Raymond is said to be working on 5 AAA titles but what are they?