God is a Geek Podcast Episode 18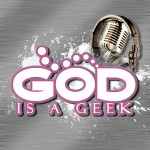 It is the week after gamescom 2010 and we have a bumper show for your listening pleasure. The main crew are all on board to discuss the big news stories to come from the show in Cologne. To add that, Calvin gives us his somewhat controversial impressions of Treyarch's Call of Duty: Black Ops, Asim tells us about his experience with the all new Medal of Honour, Aryel talks about his Dragon Age II inflatable pole-arm (yes, you read that correctly) and Aaron, well, he is around too.
Topics include:
– gamescom 2010
– Dragon Age II
– Mass Effect 2 coming to PS3
– Castlevania: Lords of Shadow Preview
– David Rutter talks FIFA 11 at the Emirates
You can checkout all of our gamescom 2010 coverage here.
Subscribe to the GodisaGeek podcast via Feedburner or iTunes