God is a Geek Podcast Episode 15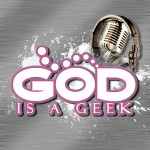 The main crew are back again to take a look at some of the weeks hot gaming topics. We discuss RealID, Starcraft II, Dragon Age II, Crackdown 2, anything with a two in the title really. As well as PES 2011 and FIFA 11. Eleven kinda looks like II, just role with it.
As always more details and audio player after the jump.
Topics of discussion include:
– Real ID: is it really that big a deal? The team give their views on the whole Blizzard real names fiasco.
– StarCraft II: The Beta is in phase two now, Aryel tells us a bit about the changes made in the latest beta build.
– Dragon Age II: Will the award winning RPG look better on the consoles this time around?
– Crackdown 2: We discuss Adam Cooks review.
– PES and FIFA are discussed, Aaron tells us about his concerns over the new PES 2011 feints system. Read our impressions here