Nintendo revealed the specifications of the Switch with updated images showcasing various buttons and ports.
While the actual specifications have been rumoured for a while and we even went hands on with the Switch, Nintendo has taken to their official website to showcase the hardware.
You can view the full website here but I noticed some interesting bits of information on the site. For one, it mentions the headphone jack being able to work with "headsets". As of now Reggie said that Voice chat would be handled by a smartphone app. Hopefully Nintendo has another direct or briefing where they clarify if the smartphone app is the only way to handle voice chat. As mentioned on the website, an update via the internet will be required for using microSDXC memory cards on the Switch.
We also have an official image showcasing the home menu user interface. The home menu will let you manage user accounts and friends.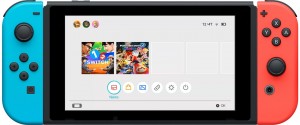 The Joy-Cons will have a capture button that lets you take screenshots easily. This is a lot better than the pointless system in place in Wii U and 3DS games that was horrible. Hopefully Microsoft improves how Screenshots are taken on Xbox One soon because it is annoying right now. I can't believe Nintendo will seemingly be ahead of Microsoft with sharing screenshots to social networks with the Switch.
Nintendo Switch will release on March 3 with The Legend of Zelda: Breath of the Wild as a launch title among others.